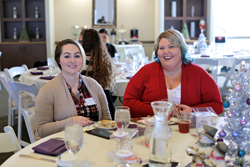 We invited all of our active surrogates, surrogates on hold for BMI issues and any surrogate who had delivered during 2018. We try and keep the atmosphere casual and comfortable so the surrogates are relaxed and ready to mingle."
SAN DIEGO (PRWEB) December 17, 2018
"We invited all of our active surrogates, surrogates on hold for BMI issues and any surrogate who had delivered during 2018," said Tracy Armato, Surrogate Liaison of Omega Family Global, which exists to make new family creation straightforward and as easy as possible. "We try and keep the atmosphere casual and comfortable so the surrogates are relaxed and ready to mingle."
Approximately 60 surrogates attended the celebration, in addition to a few Omega Family Global staff members. "It was a great opportunity to show our appreciation for their dedication and commitment to the surrogacy process," added Tracy. "We played several interactive games and had many raffle prizes that we gave away."
The raffle prizes had a total value of $5,000, and were limited to one raffle prize win per surrogate. The holiday event also consisted of brunch buffet and a mimosa bar. "Each surrogate who attended went home with a Christmas ornament, a compact mirror, and a 'Proud Surrogate' tank top," added Tracy.
Every month Tracy hosts Surrogate Get Togethers in eight different cities throughout California and one in Las Vegas, Nevada. "These monthly Get Togethers provide an opportunity for surrogates to create a social network," said Tracy. "Our holiday party provides the platform for surrogates from all locations to join in the celebration and meet more amazing women who are surrogates."
Omega also recently held a Toys4Tots drive, in which each surrogate brought an unwrapped toy to the holiday party. They had a delightful Christmas tree where they placed the children's toys. "This is a way for us all to give back to our community and help those around us to ensure that every child gets to celebrate Christmas this year," concluded Tracy.
About Omega Family Global
Omega Family Global is a comprehensive Southern California agency that provides guidance, services, experience, and knowledge to Intended Parents, originating from any state or country. Omega Family Global exists to make new family creation as simple as it can be, while being legally protected. For more information, please call (619) 800-6505, or visit http://www.omegafamilyglobal.com.
For media inquiries, please call the NALA 805.650.6121, ext. 361.