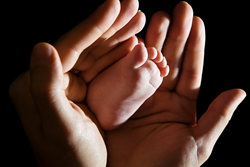 San Diego, CA (PRWEB) August 15, 2017
Giving the gift of life by becoming a surrogate or egg donor can be one of the most rewarding decisions a woman can make in her lifetime. However, there are aspects of that profound decision that many are unaware of and that can affect her own life.
Tracy Armato, a surrogate liaison at Omega Family Global, which provides surrogacy solutions, shares the following tips for people who are thinking about becoming a surrogate or egg donor.
For women considering surrogacy:
No. 1: Be ready to make a yearlong commitment to being a surrogate. "This means sometimes needing to juggle appointments with a busy family life and work schedule," said Armato. "It can also mean postponing travel plans or family events."
No. 2: Have a full understanding that the unborn child is not yours. The embryo is created using the intended parents' biological tissue (eggs and sperm) or that from a donor. "This means the baby is not in any way biologically connected to the gestational carrier (surrogate mother)," stressed Armato. "It is very important that the surrogate mentally acknowledge it is not her baby throughout the pregnancy. This allows for a smooth transition from birth to intended parents."
No. 3: Be healthy. It is necessary to maintain a healthy body mass index (BMI) to qualify to be a surrogate. "It is equally important to remain healthy throughout your surrogacy," added Armato. "Eating healthy and reducing stress during your surrogacy pregnancy is the best thing you can provide to the unborn baby. In addition, making healthy food choices reduces your risk for gestational diabetes and other pregnancy-related complications."
No. 4: Communication is key in surrogacy. There are many different people (agency, IVF center, intended parents, legal team, insurance, psychologist, etc.) who need to be able to communicate with the surrogate on a regular basis. "It is important that you can be contacted by phone and/or email. If a message is left for you, you need to be able to return the call/email by the end of that day," advised Armato.
For women considering egg donation:
No. 1: Refrain from unhealthy habits. Since an egg donor can be selected by intended parents at any given moment, it is important she live a clean, healthy lifestyle: No smoking, alcohol use, drug use, anti-depressants, etc.
No. 2: Once selected, be ready to attend many appointments over the next 2-3 months at the selected IVF center. "There will be approximately 15-18 appointments during a two-month span that you will need to attend," said Armato. "Each appointment is very important in the success of the donor cycle. Be sure you have the flexibility to commit to this process."
No. 3: Ask questions. If one doesn't understand the medical schedule or have questions about any part of the process, it is her responsibility to ask questions. "Regardless of what questions you may have, there is a person who can provide the answers," concluded Armato.
About Omega Family Global
Omega Family Global is a comprehensive Southern California agency that provides guidance, services, experience and knowledge to intended parents, originating from any state or country. Omega Family Global exists to make new family creation as simple as it can be, while being legally correct. For more information, please call (619) 800-6505, or visit http://www.omegafamilyglobal.com.
About the NALA™
The NALA offers small and medium-sized businesses effective ways to reach customers through new media. As a single-agency source, the NALA helps businesses flourish in their local community. The NALA's mission is to promote a business' relevant and newsworthy events and achievements, both online and through traditional media. The information and content in this article are not in conjunction with the views of the NALA. For media inquiries, please call 805.650.6121, ext. 361.