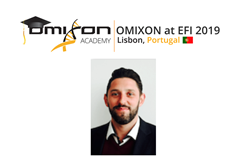 It is a privilege to be here in Portugal where Dr. Martinho from the Portuguese Bone Marrow Donor Registry has been typing his samples using Holotype at 576 samples per week on a MiSeq
BUDAPEST, Hungary and CAMBRIDGE, Mass. (PRWEB) April 30, 2019
Global molecular diagnostics company Omixon, headquartered in Budapest with US offices in Cambridge, MA, announces today that Holotype HLA and other Omixon products will be featured in 12 poster presentations at the annual meeting of the European Federation for Immunogenetics (EFI) in Lisbon, Portugal. Among the major scientific events, Omixon's Lunch Symposium on Thursday will focus on HLA typing for disease associations using NGS, featuring two guest speakers, Dr. Mohamed Jahromi from the Dasman Diabetes Institute, Kuwait and Prof. Mehdi Tafti from the University of Lausanne, Switzerland, while the interactive User Group Meeting on Wednesday will be a forum where participants can learn about Omixon's products, interact with current users and network with NGS and HLA experts.
Poster presentations featuring Holotype HLA span the full spectrum of interests at the EFI meeting, including those on Technology Validation (P177 & P202 - implementation of NGS for high-throughput registries, P200 integration with mTILDA LIMS, P217 - Automation on Eppendorf liquid handlers, P221 implementation on the new Illumina iSeq), Diseases, Genetics and Genomics (P119, P145, P180, P223, P224, P233) and epitope matching through HLA Twin with PIRCHE for bone marrow (P219) and solid organ transplantation (P208). "Omixon is extremely proud to see how Holotype HLA has shaped the scientific and technical output of our customers in the EFI Community", says Omixon's CEO, Dr. Peter Meintjes. "The research presented here are an excellent example of cutting edge science and technology that improves clinical decision making, and the subsequent outcomes for patients".
Omixon's Lunch Symposium, titled "Advances in Disease Associations Using NGS-based HLA Typing" on Thursday, May 9 will feature two customer experience stories: Professor Mehdi Tafti form University of Lausanne in Switzerland will present on their experience with Holotype HLA v3 for HLA associations in narcolepsy, while Dr. Mohamed Jahromi from Dasman Diabetes Institute in Kuwait will present on the characterization of Type-1 Diabetes in the Kuwaiti population using NGS-based HLA Typing. Omixon's Head of Product, Efi Melista, will conclude the session with updates about Omixon's product pipeline for the remainder of 2019 and automation options for Holotype HLA across a range of liquid handlers, including the recent collaboration with Eppendorft to automate on the EpMotion 5075t (P217).
Among the highlights for Omixon being in Lisbon, is that the Portguese Bone Marrow Donor Registry (PBMDR) is one of Omixon's high-throughput registry customers using Holotype HLA. Marcello Scala, VP Sales, EMEA & Asia Omixon says, "It is a privilege to be here in Portugal where Dr. Martinho from the Portuguese Bone Marrow Donor Registry has been typing his samples using Holotype at 576 samples per week on a MiSeq". Dr. Nina Lauterbach, Omixon's Senior Field Application Scientist co-authored the poster of collaboration (P202) with Dr. Martinho of the PBMDR. Omixon and ZMWay - Omixon's distributor in Portugal and Spain successfully won the tender for the PBMDR in early 2018, have typed over 16,000 samples so far, and intend to scale the relationship four-fold by including two additional sites for almost all registry typing across Portugal and clinical samples.
Omixon at EFI 2019
May 08 - May 11 | Omixon will be exhibiting at Booth #16 throughout the conference
May 09 - May 10 | HLA Twin Live Software Demos at Booth #16
May 08, 12pm - 2pm | Distributor Workshop
May 08, 2:30pm - 5pm | Interactive User Group Meeting
May 09, 12:15pm-13:00pm | Lunchtime Symposium - Advances in Disease Associations Using NGS-based HLA Typing
Omixon Scientific Posters
P119 | Masson et al. (2019) - What is the Best Method to Determine the Risk of Hypersensitivity Linked to HLAB*57:01
P145 | Binder et al. (2019) - The Complete Genomic Sequence of HLA-DRB1*03:40, an Allele which is Part of an HLA-DR11/DQ3 Haplotype with a DRB1*03:01 Sequence Motif in the HLA-DR Beta 1-chain
P177 | Oana Toma et al. (2019) - Validation of NGS method for HLA typing in the National HLA Laboratory from Bucharest
P180 | Satu Koskela et al. (2019) - Comparison of HLA Imputation Methods and Reference Datasets in the Finnish Population
P200 | Valia Bravo-Egana et al. (2019) - Interfacing a Next Generation Sequencing Bioinformatic Pipeline with a Laboratory Information Management System for Use with High Resolution HLA Typing Results and Reporting
P202 | Nina Lauterbach et al. (2019) - High Throughput HLA Typing Using NGS with Semi-automated Workflow
P208 | Mette Christiansen et al. (2019) - Donor Selection for Solid Organ Transplantation Guided by NGS High Resolution HLA Typing in Combination with PIRCHE
P217 | Vera Siffnerova et al. (2019) - Automating Holotype HLA™ on Eppendorf's epMotion® Liquid Handler and Validating it for Routine HLA Typing
P219 | Mette Christiansen et al. (2019) - NGS High Resolution Typing in Combination with PIRCHE as a Tool to Select a Permissible HSCT Donor
P221 | Libor Kolesár et al. (2019) - Evaluation of Omixon Holotype HLA™ on the iSeq 100 Instrument
P223 | Elena Shagimardanova et al. (2019) - Novel HLA Alleles Based on Polymorphism Outside the Key Exons as a Result of Full Length NGS: What Now?
P224 | Binder et al. (2019) - Completing a rare HLA-DRB1*04 Genomic Allele Sequence based on Long Range Amplicons and Next Generation Sequencing
P233 | Ogret et al. (2019) - HLA-B Signal Peptide Sequence and HLA-E Polymorphism in HIV Positive Patients
About Omixon
Omixon is a global molecular diagnostics company, headquartered in Budapest, Hungary, with US offices in Cambridge, MA that commercializes disruptive technologies for clinical and research laboratories. Omixon's flagship product, Holotype HLA, is the world's leading NGS-based HLA genotyping product that delivers the most accurate high-resolution HLA genotyping available, and is used in more than 50 hospitals worldwide. Omixon's research software, HLA Explore analyzes data from any sequencing technology and determines HLA genotypes from Whole Exome/Genome Sequencing experiments. Omixon maintains an active grant-funded research program with a product pipeline focused on pre- and post-transplantation, and HLA genotyping applications beyond transplantation. For more information, visit http://www.omixon.com