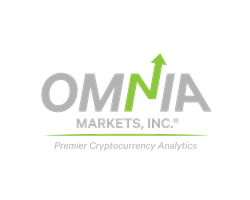 "We are excited to engage these two companies to assist with our investor outreach with our STO," says Mitesh Shah, founder and CEO of Omnia Markets. "We're looking forward to discussing our unique service offerings with investors around the globe and commencing our roadshow in the coming weeks."
NEW YORK (PRWEB) December 11, 2019
Omnia Markets, Inc., currently developing a one-stop platform to provide cryptocurrency-based data, proprietary and non-proprietary analytics, comprehensive and reliable industry market information and trends all backed by their Artificial Intelligence (A.I.) system, has engaged a corporate finance service provider, Marquee Equity, and a New York-based investment bank, Jahani and Associates LLC, to provide advisory services and to assist in the company's Security Token Offering (STO).
Omnia Markets, with Jahani and Associates LLC, will commence their first investor roadshow focused in the Middle East and North Africa (MENA) region in January 2020.
"We are excited to engage these two companies to assist with our investor outreach with our STO," says Mitesh Shah, founder and CEO of Omnia Markets. "We're looking forward to discussing our unique service offerings with investors around the globe and commencing our roadshow in the coming weeks."
"The Omnia Markets value proposition is quite impressive and a welcome addition to the industry. Our services platform will connect Omnia Markets with specific investors around the world that focus on blockchain technology and cryptocurrencies," said Shishir Singh, Lead of Growth and Alliances at Marquee Equity.
"We are very pleased to have been selected by Omnia Markets as their advisor. We believe their platform and service offerings will position them as a global leader in their market. I personally look forward to working with Mitesh," said Joshua Jahani, CEO of Jahani and Associates.
About Omnia Markets, Inc.
Omnia Markets is a cryptocurrency analytics platform based on blockchain technology collecting, aggregating and filtering information regarding crypto-companies and their coins. Omnia provides the highest standards and proprietary analytical tools for investors and consumers to use when evaluating various cryptocurrencies as it also develops its own internal journalism and reporting organization. Consumers will gain insights into the cryptocurrency industry, information, and trends to better understand the ever-growing market. Omnia Markets' proprietary analytics will include a unique tool set that is based on its Artificial Intelligence and Machine Learning algorithms that will provide unique perspectives to users.
About Marquee Equity
Marquee Equity is an owned and operated subsidiary of Star Trooper Technologies Private Limited. Marquee offers a service platform that assists clients connect and communicate with investors around the world that focus on specific areas and industries such as blockchain, cryptocurrency, and frontier technologies.
About Jahani and Associates LLC
Jahani and Associates LLC is a privately held investment bank headquartered in New York City that specializes in the intangible assets of the healthcare and technology verticals. J&A provides various services such as advisory, M&A, and management consulting to clients around the globe, with an emphasis in the MENA region.
For more information about Omnia Markets, please visit https://www.omniamarketsinc.com/.
CAUTIONARY STATEMENTS REGARDING FORWARD-LOOKING STATEMENTS
This Press Release contains forward-looking statements within the meaning of Section 27A of the Securities Act, and Section 21E of the Securities Exchange Act of 1934, as amended. These statements involve known and unknown risks, uncertainties and other important factors that may cause the Company's actual results, performance or achievements to be materially different from any future results, performances or achievements expressed or implied by the forward-looking statements. Forward-looking statements may include, but are not limited to, statements relating to the Company's current and projected operations, financial results, business and products. For further information, please contact us the person identified above.
###