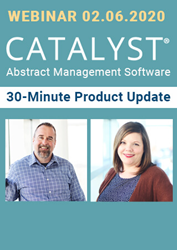 We developed CATALYST to address the unmet needs of meeting planners. As those needs and requirements evolve, CATALYST will continue to evolve too.
MADISON, Wis. (PRWEB) January 24, 2020
Omnipress, a provider of event technology products and print services for conferences announces several new enhancements to its flagship product, CATALYST abstract and speaker management software.
Omnipress first launched its fourth-generation abstract and speaker management system, CATALYST®, in 2016. Designed specifically to address the most common challenges with managing a call for papers, CATALYST is a highly configurable system that provides unprecedented flexibility to meet an organization's customized workflows without the high price tag of custom development. Since the initial launch, Omnipress has continued to make significant investments in product updates and enhancements and will be unveiling its newest set of features during a 30-minute webinar on Thursday, February 6th.
"For over 40 years, our focus has remained steadfast on helping our customers source and deliver the highest quality educational content to their attendees," states Jonny Popp, Omnipress General Manager. Our customers' needs are continually evolving, as is the technology landscape. To continue our mission, it's important that we maintain our investment in our people, products and services."
Increased integration has been a major focus for the Omnipress development team, both with third-party association and event management tools, and within CATALYST's own ecosystem. Paul Baldridge, Omnipress Digital Product Director, summarizes the latest CATALYST developments as, "an effort to continually increase the value of CATALYST to our customers by providing a simpler and more seamless process from start to finish, meaning, from the initial call to the production of final, attendee-facing materials."
Some of the most notable product updates include:
New user landing page
To help encourage only the highest-quality submissions, new users are taken to a customized landing page before they create an account and log into the system.
Re-designed, role-based dashboard
The updated dashboard features a more intuitive design and provides even better insights to submitters, reviewers and event administrators. The new dashboard makes it easier for submitters and reviewers to see the status of their submissions, assignments and important notifications, while allowing meeting planners an at-a-glance snapshot of important data.
Scheduling tool updates and enhanced functionality
An updated drag-and-drop interface and increased conflict detection capabilities make scheduling accepted content, and other event functions such as meals and social events, even easier.
Increased integrations with third-party tools:
CATALYST integrates with some of the leading association management systems, including YourMembership and NetFORUM by Community Brands. CATALYST also connects to other third-party tools such as Authorize.net and Bluepay to collect submission fees, iThenticate plagiarism detection software, and Attendify®, one of the leading mobile event apps.
Expanded use-case to awards, scholarship and grant application management
CATALYST has historically served as an abstract, speaker and schedule management tool. Now, it also helps association professionals manage their application submission and review process, too.
In light of these advancements, Popp points out that Omnipress remains steadfast in its focus on educational content. "There are an overwhelming number of event tech options on the market to help professionals manage nearly every aspect of their conference. We want to be sure that regardless of which tools they're using throughout their event, CATALYST makes it easier to source, select and produce the educational content that will bring attendees back."
Get a preview of the new features during a 30-minute webinar hosted by Omnipress on Thursday, February 6th at 2:00 p.m. Central Time. Registration is free.
About Omnipress
Omnipress was founded over 40 years ago to help associations and other organizations simplify the process of collecting, producing and distributing print and digital educational content for the members, attendees, learners and staff. Today, Omnipress provides products and services to support Conferences, Instructor-Led Training and Education, and Member Publications.