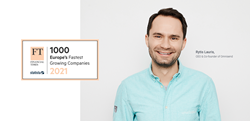 Omnisend made the FT 1000 because of the increased adoption for our marketing automation platform by online merchants and the dedication of our growing global team that guides omnichannel marketing forward. - Rytis Lauris, CEO
AUSTIN, Texas (PRWEB) March 08, 2021
Omnisend, the email and SMS marketing automation platform built for ecommerce brands, has been recognized in Financial Times' FT 1000 as one of Europe's fastest-growing companies, placing number 87 in its debut appearance on the list.
In addition, Omnisend was recognized as the fastest-growing ecommerce technology company in Europe with a compound annual growth rate of 146.2%. The FT 1000 shows 1,000 European companies that achieved the highest percentage growth in revenues between 2016 and 2019.
"Omnisend made the FT 1000 because of the increased adoption for our marketing automation platform by online merchants and the dedication of our growing global team that guides omnichannel marketing forward," said Rytis Lauris, CEO and Co-founder of Omnisend. "Placing in the top 10% in our first appearance confirms we're meeting the rising demand from ecommerce brands to have an easy-to-use platform that lets them quickly build direct consumer relationships on all the key channels and drive more sales."
The FT 1000 ranking marks continued recognition for Omnisend after the privately-owned company was recently included in Deloitte's UK Technology Fast 50 list coming in at number 33.
Thousands of European brands such as Hallmark, Faber-Castell, and Boy London use Omnisend to deliver targeted messages to customers at the right time thanks to Omnisend's intuitive segmentation capabilities, pre-built automation workflows, and the combined power of email, SMS and push notification channels.
To learn how Omnisend's marketing automation platform can put your sales on autopilot, visit http://www.omnisend.com.
View the FT 1000 at https://www.ft.com/content/8b37a92b-15e6-4b9c-8427-315a8b5f4332.
About Omnisend
Omnisend is an ecommerce-tailored email and SMS marketing automation platform built to help nimble teams drive more revenue without increasing their workload. One-click ecommerce stack integrations, pre-built workflows, and intuitive drag and drop editing make it easy to get up and running without diving into the gritty details, unless you want to.
More than 55,000 ecommerce brands use Omnisend to grow their businesses on autopilot, converting their customers with quick-to-build, highly-relevant emails and texts. Learn more at http://www.omnisend.com.