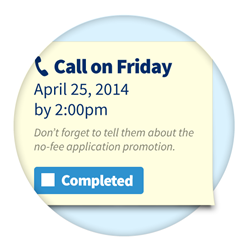 Follow-up prompts are one of the features that makes our lead management solution a secret weapon for apartment managers.
Campbell, CA (PRWEB) August 12, 2014
Fewer than one in five apartment managers are using technology effectively to respond to inbound leads. This startling statistic, revealed in a study released by D2 Demand Solutions, resulted from contacting 31 communities managed by some of the largest operators in the country.
While the report, titled Email Re-marketing: Is Multi-family Missing Out?, shows that communities are generally good at using auto-replies – 84% of those contacted by email sent something back – the follow-up beyond the initial contact was disappointing and lacked a systematic approach, the study states.
On-Site, the online leasing technology platform, sponsored the white paper as part of its ongoing research into improving the user experience of apartment leasing.
Zeke Kirkpatrick, On-Site's director of product management, agrees that housing providers could do more to follow up with leads, and his company's recent advances aim to provide a helping hand.
"Many housing providers rely on the initiative of their leasing agents to follow up with leads," said Kirkpatrick. "Unfortunately, this approach leaves both the quality of the response and the timing of the reaction solely in the leasing agents' care."
A more balanced approach is preferable, he said.
The D2 study recommends the method of so-called "drip marketing," a tactic that blends pre-written and personalized messaging to customers over a pre-determined period of time, each with a definitive call to action.
"We think that the multifamily industry is missing out on a significant marketing opportunity evidenced by the dearth of high quality email re-marketing drip campaigns," the report notes. Notably, the communities surveyed were REITs and large property management companies with large budgets for technology and training.
The D2 report's authors explain that it takes a lot of time, effort and cost to generate a lead. Conversely, other than the upfront time and cost of developing a good drip campaign, the incremental costs are insignificant.
On-Site's lead management software leverages the drip marketing opportunity for cultivating prospective renters with a balance of branded auto-responses and prompts for action by the leasing agent at set intervals. The technology is a component of the company's integrated listing-to-lease platform.
"Follow-up prompts are one of the features that makes our lead management solution a secret weapon for apartment managers," said Kirkpatrick. "Smart software keeps them organized and focused on a creating an exceptional user experience for new prospects as well as existing residents considering renewing their lease." The solution also incorporates handy features for managers and renters alike such as lead scoring, integrated phone/SMS communication and online tour setting.
D2 is a consultancy founded by Donald Davidoff, a pioneer in the multifamily industry focused on marketing analytics, product design and operational strategy where technology and people meet.
To conduct the D2 study, its authors used community websites to email a request for a 1-bedroom unit. While the majority did e-mail something back, 16% never did, and only 19% engaged in some degree of drip marketing.
The study also noted some clear usability problems and branding missteps at the prospecting stage:

10% of the sites contained difficult spam filters or required fields that were not marked "required";
16% had confusing or hidden "contact us" links;
23% requested dozens of pieces of information like a secondary phone number;
19% displayed an error message or blank page after submitting the form;
One email was branded with the logo and color scheme of the property management software supplier instead of the community.
The D2 authors conclude by suggesting that housing providers test their own systems by interfacing with the community from a future renter's perspective, a tactic that On-Site unquestionably endorses.
"I am confident our next-generation platform is well suited to meet the needs of expert marketers," said Kirkpatrick.
Download the entire report from D2 Demand Solutions here.
About On-Site
Founded in 1999 with technology and service 100% based in the U.S., On-Site is bringing the apartment industry up-to-speed with what today's consumer expects from the renting experience: modern technology and a focus on usability. On-Site's end-to-end platform covers everything from community marketing and renter qualification to lease contract generation with e-signatures and online storage. Plus integrated communication hubs to drive resident retention after move-in. The result is a simplified rental experience that leads to greater customer satisfaction and translates directly to the positive side of the balance sheet. For more information about On Site's leasing solutions, visit http://www.on-site.com or contact one of On-Site's online leasing experts at (855) 667-6500.
About D2 Demand Solutions, Inc.
D2 Demand Solutions finds its niche where technology and people meet. We have decades of experience bridging the gap between technology and people whether it's prospects, customers or associates (or all three). We've implemented game-changing programs in pricing and revenue management, eCommerce and internal workflow. We know how to design and build systems that are more intuitive, how to manage cultural change and how to train a modern, adult workforce.