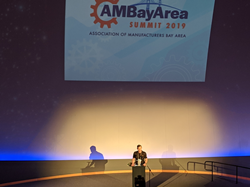 It great to have a group as focused as AM Bay Area that develops resources to benefit members as well as our communities we live and work in.
ALAMEDA, Calif. (PRWEB) May 17, 2019
On April 30th, TRIC Tools participated in AM Bay Area's 2nd Annual Bay Area Manufacturing Summit. The event was held at Oakland, California's Chabot Space and Science Center. The event was very well attended and had many member benefits for Bay Area manufacturing companies.
The event started with a number vendors who assist Bay area manufacturers grow their businesses. Bay Area banks were able to discuss letters of credit, loans and credit. Some of the banks were Bank of America Merrill Lynch, Wells Fargo, California Bank of Commerce and Comerica. A Consortium of Bay Area community colleges were at the event. The Colleges focus on manufacturing work force development through hands on training at the different campuses. A website to see colleges in the area is https://bayareamanufacturingcareers.com/programs-by-college.html. In addition, there were government agencies that assist manufacturers in finding and developing key personnel. Some of the agencies involved were Workforce Development Board of Alameda County and Contra Costa County.
Later in the afternoon, there were workshops to educate manufacturers on everything from creating a Benefit Corporation to Tax Credits and Incentives for manufacturers. The Summit was well attended. "I enjoy the relationships we've built with the AM Bay Area Manufacturing Association," said TRIC's Michael Lien. He continued, "Its great to have a group as focused as AM Bay Area Manufacturing Association that develop resources to benefit members as well as our communities we live and work in." One of the workshops that filled the room was a panel discussion on Appreniticeship and Internship programs. Members of the panel were AB&I Forging, FM Industries Shell Refinery, and Tesla. The panel allowed audience members to ask both the company and the apprentice what they liked about this type of program.
To learn more about AM Bay Area, please visit their website at https:\\AMbayarea.com. AM Bay Area's next event will be Thursday, May 23rd 9:00 am to 11:00 am at Oakland's Asian Cultural Center (388 9th Street, Oakland, CA).
TRIC Tools is an infrastructure and environmental solutions company that provides proprietary technology, tools and services for trenchless rehabilitation and replacement of sewer, water, gas and other difficult to access underground pipes. TRIC holds four U.S. and International patents for its device and method of trenchless pipe replacement. In 1997, TRIC established the standards and created the industry for lateral replacement (home's sewer line) using its pipe-bursting technology. TRIC continues to re-engineer its technology for new markets, expanding upon its domestic sewer lateral tools with the introduction of innovative solutions for mainline sewer, drinking water and gas distribution pipelines.