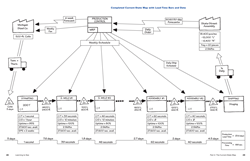 The new online workshop, Learning to See Using Value Stream Mapping, explains how to use value-stream maps to apply the right continuous improvement tools at the right places.
BOSTON (PRWEB) April 21, 2021
Despite the best efforts of companies to improve performance, cost savings fail to reach bottom lines, quality and service improvements fail to reach customers, and continuous improvement efforts fail to last, according to the nonprofit Lean Enterprise Institute (LEI).
The reason is that well-intentioned improvement efforts often are deployed in isolation to fix part of a process for providing products or services. The results are isolated islands of improvement and limited benefits. To be effective, improvement efforts must be targeted strategically within the context of creating a complete lean value stream.
Learning to See Using Value-Stream Mapping, teaches businesspeople at all levels how to use value-stream maps to create "blueprints" for strategically applying the right continuous improvement tools at the right places in processes. Mapping identifies and eliminates nonvalue-adding waste, including time and costs, thus improving the flow of value to customers.
Value-Stream Mapping Benefits
The workshop is based on Learning to See, the award-winning, easy-to-read workbook that explains step-by-step the valuable value-stream mapping methodology.
Mapping is an overarching tool that graphically depicts an entire process, including material and information flow, along with key data. Rather than taking a haphazard approach to improvement, value-stream mapping establishes a direction for performance improvement and the company.
Through videos, hands-on exercises, handouts, live coaching sessions, and case studies, workshop attendees learn:

What are lean management and value-stream mapping.
How value-stream mapping improves productivity, quality, time-to-market, accelerates positive change, and uncovers growth opportunities.
Why mapping avoids the common mistake of cherry-picking individual improvement tools, which creates isolated islands of improvement and limited benefits.
How to draw a current-state map, create an improved future-state vision and map, then establish an implementation plan.
How to see beyond the symptoms of waste to the deeper root causes to make substantial and sustainable improvements.
Why mapping is significantly more powerful than other improvement tools.
How mapping provides a common language for all employees and managers, so they see problems in a shared way.
Plus, because it is online, self-paced, and on-demand, attendees learn at their own speed and schedule, alone or with a team.
Complete information about tuition, course content, and how to register are available by calling (617) 871-2900, emailing registrar(at)lean(dot)org, or visiting the workshop page at https://elearning.lean.org/courses/LTS Registration is open now.
About the Lean Enterprise Institute
Lean Enterprise Institute Inc. is a 501(c)(3) nonprofit based in Boston, MA, with a mission to make things better through lean thinking and practice by helping companies create more value and prosperity while consuming the fewest possible resources. Founded in 1997 by management expert James Womack, PhD, LEI conducts research through co-learning partnerships with companies, teaches on-site and online workshops, publishes books and ebooks, organizes conferences, and shares practical information about lean thinking and practice at http://www.lean.org.