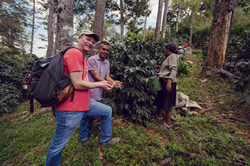 "Training is one thing we do really, really well at Crimson Cup. We teach and train our customers how to be successful. And if they're successful, we're successful!" - Greg Ubert
COLUMBUS, Ohio (PRWEB) November 03, 2021
Heartland Bank CEO Scott McComb recently interviewed Greg Ubert, Founder and President of Crimson Cup Coffee & Tea, for the bank's Driving the CBUS podcast. New co-host Kailyn Bucklew joined the podcast.
The team talked about Ubert's 30-year history in specialty coffee, his passion for entrepreneurship and his love of his hometown of Columbus, Ohio. They also touched on Crimson Cup's focus on good and its drive to create a sustainable coffee future.
"It started in 1991, and it's still just super exciting for me to be in the business and to continue to innovate and do the things we're doing," Ubert said.
Today, he heads an award-winning specialty coffee company and serves on the Heartland Bank and Columbus Chamber boards of directors.
Yet 30 years ago, Ubert was a recent Harvard University graduate. Despite landing a lucrative corporate job in Chicago, he discovered he couldn't fall in love with computer software.
Instead, specialty coffee and the lure of starting a small business swept him off his feet. With its quality public schools and supportive business culture, Ohio's capital seemed the perfect place to start a new venture and raise a family.
"Coffee – or great coffee – just wasn't around," he said. "I thought there's no way Columbus won't be a great city with cuisine, given all the things that Columbus offers."
After moving back to his hometown, Ubert set up as a specialty coffee roaster, with a tiny roasting machine in a one-room office. He named his company Crimson Cup for the ripe red cherry of the coffee tree and Harvard's official color, crimson.
His goal was to roast the best coffee anyone had tasted. And soon, coffee shops and restaurants were proud to serve Crimson Cup.
But, even with exceptional coffee, some customers struggled to make a profit.
"They didn't know, in the coffee industry, what was going to make them money, what was going to keep them around, what was going to keep them strong," he recalled.
So, after studying coffee shop operations, Ubert developed a coffee shop startup platform called 7 Steps to Success.
And in 2003, he put his experience into a book, Steps to Success: a Common-Sense Guide to Succeed in Specialty Coffee.
This proven roadmap teaches entrepreneurs with little or no coffee experience how to run a profitable coffee shop based on a terrific location, exceptional coffee and other factors.
To date, over 300 entrepreneurs in 30 states have followed the 7 Steps to create thriving coffee shops.
Crimson Cup coffee shop startup consultants guide new owners step by step, from writing a solid business plan to choosing equipment, hiring and training employees and more.
"Training is one thing we do really, really well at Crimson Cup," Ubert said. "We teach and train our customers how to be successful. And if they're successful, we're successful!"
Ubert also talked about sustainable coffee farming. Over a decade ago, the company started investing in farmer relationships and farming communities, then developed its Friend2Farmer initiatives to make a meaningful impact in coffee-growing communities.
"We teach farmers to make better coffee, and then we can pay them more for it. Then they can invest in their farms and communities," Ubert said.
Crimson Cup also invests in community projects such as schools, water filtration buckets and building homes for coffee workers.
Looking ahead, Ubert says Crimson Cup has begun to emphasize a Focus on Good in branding and communications.
"I believe very strongly that people are good throughout the world." Ubert said.
"If we can look at that and get others to look at that, too, that could quite possibly change things for the better. That's how we landed on Focus on Good as a core message."
"Each new local coffee shop or farmer relationship adds impact to The Ripple Effect, a focus on good that spreads from our actions to small businesses and communities around the globe," he concluded.
To hear the full story of Crimson Cup's history, its focus on good and work toward a sustainable future for coffee and the farmers who grow it, listen to the podcast.
About Crimson Cup Coffee & Tea
Columbus coffee roaster Crimson Cup Coffee & Tea is celebrating 30 years of Coffee + Community. Since May 1991, Crimson Cup has roasted sustainably sourced craft coffee for consumers and wholesale coffee customers. It is a 2020 Good Food Award winner, 2019 Golden Bean Champion for Small Franchise/Chain Roaster and Roast magazine's 2016 Macro Roaster of the Year.
Through its 7 Steps to Success coffee shop startup program, the company teaches entrepreneurs to run independent coffee houses in their local communities. By developing a coffee shop business plan, entrepreneurs gain insight into how much it costs to open a coffee shop.
Crimson Cup also supports life-enriching projects through its Friend2Farmer® initiatives, promoting the education, health, sustainability and economic growth of small-plot coffee farmers and their communities.
Crimson Cup coffee is available through over 350 independent coffee houses, grocers, college and universities, restaurants and food service operations across 30 states, Guam and Bangladesh. The company also operates several Crimson Cup Coffee Houses and a new Crimson retail flagship store. To learn more, visit crimsoncup.com, or follow the company on Facebook and Instagram.