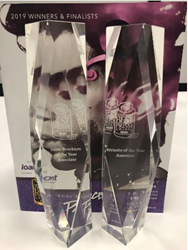 HOUSTON (PRWEB) October 22, 2019
The Greater Houston Builders Association recently held the 2019 Houston's Best PRISM Awards banquet at the George R. Brown Convention Center to recognize the top homebuilders, developers, remodelers, Realtors, and marketing professionals in Houston.
On-Target!, a Houston digital marketing agency, focuses on helping all types of companies serving the residential real estate market: developers, builders, remodelers, building materials and builder service companies, maximize revenue and profits.
This top Houston advertising agency helped award-winning master-planned communities, Lakes of Bella Terra, Long Meadow Farms and Falls at Imperial Oaks to outpace competitors over the last decade with digital marketing strategies designed specifically for the residential real estate market.
At the 2019 Houston's Best PRISM Awards, On-Target! received awards for both Website and Brochure of The Year, for work on homebuilder services companies, Allpoints Group and DPIS Builder Services, respectively.
"It's gratifying to see our ability to refine how businesses serve their customers better through digital initiatives get recognized by leaders within the industry. We're honored to have worked with Allpoints and DPIS, and are excited about the awards, but we're even more excited about the results these projects generated," says Scott Steiner, President of On-Target!.
About GHBA's Houston's Best PRISM Awards
Houston's Best PRISM Awards, hosted by the Greater Houston Builders Association, recognizes the industry's best in the categories of People, Product, and Promotion. Entries are judged by an independent panel of industry experts from across the nation. The PRISM distinction has long been synonymous with the industry's highest caliber of excellence.
About On-Target! Agency
Our mission is to "Make Sh*t Happen." As an often-recognized top advertising agency, On-Target! Is known for making all kinds of amazing things: websites, digital advertising campaigns, videos, sales collateral, traditional advertising, brochures, logos, marketing campaigns, yada, yada. It's the approach taken to craft strategies and tactical plans that address real business problems that drives this unique company. All the amazing, award-winning sh*t is created with the core purpose to "Make Profits Happen."