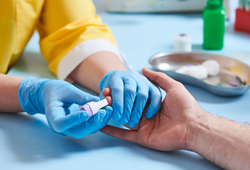 People need to be able to continue to work, but they also need the assurance that they're working in safe environments where employers take steps to minimize COVID-19 exposure and risk.
CLEARWATER, Fla. (PRWEB) December 16, 2020
As winter approaches, Americans are dealing with a resurgence of the COVID-19 virus. Even with the new vaccine, the pandemic will not go away quickly, and now, it seems to be getting worse—in the United States alone, there are 16.8 million confirmed COVID-19 cases, the highest number worldwide, and countless hundreds of thousands of people are hospitalized, placing great strain on the healthcare system.(1, 2) Already, some 304,000 Americans have died from the virus, and, in recent weeks, officials recorded more than 227,000 new cases in a single day.(1) In response to the surge, many believe that President-elect Joe Biden will issue orders for a national shutdown after taking office. "The economy is already fragile from the first COVID-19 wave, and another shutdown will have devastating impacts on Americans," says David Lee Jensen, CEO of USA Rapid Test. "People need to be able to continue to work, but they also need the assurance that they're working in safe environments where employers take steps to minimize COVID-19 exposure and risk."
There is an inherent fear that goes along with returning to work environments. Early interventions, such as social distancing and voluntary shutdowns, have already caused unprecedented economic turmoil, with supply chain problems, increased demand for certain products, and financial stress affecting almost all Americans. In June, The Commonwealth Fund estimated that as many as 7.7 million workers had already lost their jobs because of a pandemic-induced economic recession.(3) The economy itself shrank by an estimated $2.2 trillion as businesses large and small were forced to shut their doors while Americans sheltered at home.(4) And even though Congress responded with trillions of dollars in emergency aid, that money has now dried up and people are facing the possibility of another economic downturn with no federal assistance.
Getting back to normal means keeping businesses open so their workers can continue to earn a living without the fear and uncertainty. This means wide-spread COVID-19 testing is necessary to ensure the health of the workforce. USA Rapid Test has received U.S. Food and Drug Administration authorization for their COVID-19 test kits. The mouthwash was developed by Thermo Fisher Scientific, Inc. in Carlsbad, Calif.(5) The blood test was developed by a CLIA-certified laboratory,(6) Genabio LLC. Employers offering these tests to employees can know in as little as 15 minutes whether a person is infected. Instead of a painful nasal swab, the test uses a small amount of blood that can be collected on the job site without the need to visit a doctor. If the initial test indicates COVID-19 infection, the results can be confirmed with USA Rapid Test's oral rinse PCR test. The oral rinse test is evaluated by professionals in a laboratory, but definitive results are still available within 48 hours.
According to a recent report, almost 100,000 businesses which temporarily shut down in the first wave of the pandemic are now permanently out of business.(7) Part of Biden's economic plan includes restoring millions of lost jobs, and rapid test kits can help make sure that new members of the workforce were healthy enough to begin new jobs. The use of such testing, along with widespread distribution of a new COVID-19 vaccine, would help to boost consumer confidence by ensuring that Americans could safely remain at work and continue to earn money to support their families. As consumers cautiously adjust to the ever-changing environment, there is already increased optimism in the economy.(8)
COVID-19 testing is essential for businesses to operate safely, and USA Rapid Test's kits make it possible for employers to know, on location, whether an employee is a risk to others. "To keep the economy open and functional, people need to know if it's safe to go to work. Our test kits make it possible for anyone to quickly find out whether COVID-19 exposure has taken place, helping protect workers and consumers alike," says Jensen.
About USA Rapid Test:
USA Rapid Test is the Clearwater, FL. based distributor of the Rapid Antibody Tests and the Oral Rinse PCR Test to enable the safest and fastest way to test any individual for the COVID-19 virus. The Rapid Antibody Testing yields results in 15 minutes or less and the oral rinse reporting results in 24 to 48 hours—from their laboratory. The antibody tests have a Supreme Test accuracy of 100% Sensitivity and 99.2% Specificity. Both products are entirely made in the USA under a CLIA-H (High Complexity) Laboratory. USA Rapid Test's mission is to give American business owners the ability to test their employees quickly, safely, and confidently in order to get America back to work once again. For more information, visit http://www.usarapidtest.com.
1. Hills, Mike. "Covid-19 in the US: Is This Coronavirus Wave the Worst Yet?" BBC News, BBC, 18 Nov. 2020, bbc.com/news/world-us-canada-54966531.
2. "CDC COVID Data Tracker." Centers for Disease Control and Prevention, Centers for Disease Control and Prevention, 2020, covid.cdc.gov/covid-data-tracker/.
3. Paul Fronstin and Stephen A. Woodbury. "How Many Americans Have Lost Jobs with Employer Health Coverage During the Pandemic?" How Many Have Lost Jobs with Employer Coverage During Pandemic? | Commonwealth Fund, 7 Oct. 2020, commonwealthfund.org/publications/issue-briefs/2020/oct/how-many-lost-jobs-employer-coverage-pandemic.
4. Lynch, David. "Raging Virus Triggers New Shutdown Orders and Economy Braces for Fresh Wave of Pain." The Washington Post, WP Company, 15 Nov. 2020, washingtonpost.com/business/2020/11/14/coronavirus-shutdown-orders-economy/.
5. FDA letter of approval | fda.gov/media/136113/download | Accessed 09 DEC 2020
6. US Food and Drug Administration; "Insight Into FDA's Revised Policy on Antibody Tests: Prioritizing Access and Accuracy"; fda.gov/news-events/fda-voices/insight-fdas-revised-policy-antibody-tests-prioritizing-access-and-accuracy | Accessed 11 DEC 2020.
7. Sraders, Anne, and Lance Lambert. "Nearly 100,000 Establishments That Temporarily Shutdown Are Now out of Business." Fortune, Fortune, 28 Sept. 2020, fortune.com/2020/09/28/covid-buisnesses-shut-down-closed/.
8. "Survey: US Consumer Sentiment during the Coronavirus Crisis." McKinsey & Company, McKinsey & Company, 23 Nov. 2020, mckinsey.com/business-functions/marketing-and-sales/our-insights/survey-us-consumer-sentiment-during-the-coronavirus-crisis.