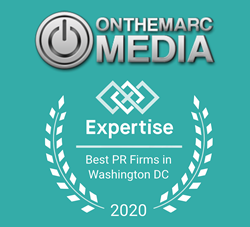 "Smart, agile marketing is vital during this unprecedented period. That's why we jumped into action immediately, to help business owners reevaluate, revise and retool their marketing strategies." - Marc Silverstein, On The Marc Media President
ROCKVILLE, Md. (PRWEB) May 07, 2020
On The Marc Media tops the list of Washington, D.C. area public relations firms, named #1 in the latest survey by Expertise.com. This is the second consecutive year the Rockville, Maryland-based PR company has been named to the coveted list, receiving high scores for reputation, credibility, experience and more.
On The Marc Media ranks #1 out of 62 public relations firms around Washington, D.C. The survey, conducted by California-based Expertise, LLC, uses a proprietary research and selection process to identify the top service professionals in over 200 different industries across the largest cities in the United States.
Expertise grades each business across the following selection criteria, then conducts a manual review to verify and hand-pick the best:

Reputation: A history of satisfied customers giving excellent recommendations
Credibility: Established in their industry with licensing, accreditations, and awards
Experience: Masters of their craft, based on years of practical experience and education
Engagement: Approachable and responsive to clients and available for new business
Professionalism: Dedicated to providing consistently quality work and impeccable customer service
See how Expertise describes On The Marc Media as #1 among DC-area PR firms: https://www.expertise.com/dc/washington/public-relations-firms.
Of late, On The Marc Media points to its lightning fast response to the COVID-19 crisis. Recognizing the damage the pandemic would inflict on public health and businesses of all sizes, the firm quickly developed digital resources and marketing tips tailored to the crisis. This crisis-marketing resource page includes valuable do's and don'ts for keeping a business afloat amid the many challenges posed by COVID-19.
"Smart, agile marketing is vital during this unprecedented period," said company president Marc Silverstein. "That's why we jumped into action immediately, to help business owners reevaluate, revise and retool their marketing strategies."
Silverstein emphasized this crisis period is not the time to refrain from using advertising, public relations, social media engagement, and other marketing strategies. Businesses that want to survive in this new era must adjust and adapt their marketing plans to be relevant and effective.
About On The Marc Media
On The Marc Media is a multimedia communications company specializing in public relations, social media, marketing, video production and much more. We integrate cutting-edge technology to promote and communicate focused messages for businesses, non-profit organizations and individuals.