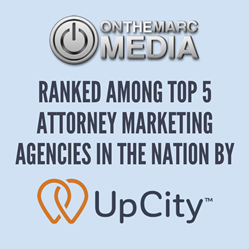 Law practices need inspired marketing in order to thrive in today's crowded marketplace. We are honored to be ranked among the top five attorney marketing agencies in the nation by UpCity. -Marc Silverstein, Founder of On The Marc Media
ROCKVILLE, Md. (PRWEB) July 28, 2020
Big honors: On The Marc Media is named one of UpCity's Top Attorney Marketing Agencies in the country. The Maryland-based communications firm ranks within the top 5 out of 43 competitive agencies on the UpCity list. The agency is praised for its high quality, values, creative insights, strategic discipline and proven track record of success.
"Law is a time-honored profession, but a law practice is a business that needs inspired marketing in order to thrive in today's crowded marketplace. We are honored to be ranked among the top five attorney marketing agencies in the nation by UpCity and even more excited to deliver profitable results for our law-firm clients," said Marc Silverstein, Founder of On The Marc Media.
UpCity thoroughly evaluates national legal marketing agencies that specialize in law firms and legal practices to create the most qualified and competitive list. On The Marc Media was chosen based on UpCity's eight-factor Recommendability Rating and Methodology:

Profile Completion
Engagement Rate
Reviews
Third Party Reviews
Presence in Search Engines
Business Location Data
Domain Authority
Website Speed & Experience
See how UpCity ranks On The Marc Media: https://upcity.com/local-marketing-agencies/profiles/on-the-marc-media
UpCity also ranks On The Marc Media on 6 additional legal marketing lists:

Top Attorney Branding Agencies
Top Attorney Content Marketing Agencies
Top Attorney Marketing Agencies
Top Attorney PPC Agencies
Top Attorney SEO Agencies
Top Attorney Web Design Agencies
On The Marc Media was founded by Emmy-Award winning television news reporter and former Food Network and Discovery Channel host Marc Silverstein. With knowledge and experience on all sides of the camera, On The Marc Media specializes in public relations, content marketing, social media, video production and more. Plus, the agency has a proven record of turning legal professionals into nationally recognized thought leaders.
The team at On The Marc Media has an extensive work history with law firms and legal professionals. The agency's integrated strategies and expert methods help connect and mold prospects into long-term relationships. On The Marc Media helps legal professionals gain recognition through article submissions, awards, and media coverage.
On The Marc Media's attorney clients have been featured in Forbes, CNN, The New York Times, NBC News, People, NPR, The Washington Post, USA Today, Sirius XM, ABC News and many more publications.
View On The Marc Media's impressive legal marketing case studies and legal media kits.
About On The Marc Media
On The Marc Media is a multimedia communications company specializing in public relations, social media, marketing, video production and much more. We integrate cutting-edge technology to promote and communicate focused messages for businesses, non-profit organizations and individuals.