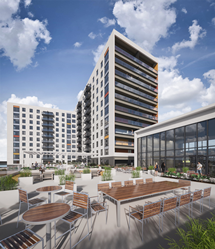 RICHMOND, Va. (PRWEB) May 05, 2020
Looking across the James River from downtown Richmond, you will see changes to the Manchester skyline as South Falls Tower rises from behind the floodwall. Set to open in late 2020, South Falls Tower is the newest addition to the luxury apartment brand, Elevated Properties.
South Falls Tower is a 14-story, luxury apartment building with modern studio, one, and two-bedroom floorplans, all of which boast floor-to-ceiling windows showcasing unobstructed views of downtown Richmond and the river. The contemporary, open-concept apartments feature gourmet kitchens with custom flat-panel cabinetry, sun-soaked living and dining areas with plank-style flooring, and spacious bedrooms with spa-inspired bathrooms making every apartment the perfect place to call home.
Residents will have the opportunity to indulge in luxurious amenities at South Falls Tower. The outdoor courtyard overlooking the river offers a resort-style swimming pool, grilling areas, lounge seating, and garden space. A thoughtfully designed 4th-floor resident clubhouse features a chef's kitchen, entertainment area, and floor-to-ceiling glass windows with breathtaking views. The expansive state-of-the-art fitness center offers a separate yoga room and resident mezzanine. Residents can also enjoy the company of their furry friends since South Falls Tower is a pet-friendly building.
PRG Real Estate, an industry-leading multifamily owner-operator, and Richmond-based developer WVS Companies are pleased to add the newest addition to their luxury apartment brand, Elevated Properties, with the completion of South Falls Tower. PRG Real Estate and WVS Companies have previously completed several other luxury apartment communities around the downtown and greater Richmond area, including East 51 at Rocketts Landing, Circ Apartments, and Innslake Place Apartments. The partnership continues to expand outside of Richmond with more developments breaking ground in both Hampton Roads and Roanoke, Virginia.
For more information about South Falls Tower, please visit South Falls Towers.
PRG Real Estate owns and manages more than 11,000 apartment homes throughout the United States. With over 30 years of successfully transforming communities, its 300 associates remain dedicated to providing residents with a great place to call home. For more information on PRG Real Estate, please visit PRG Real Estate.