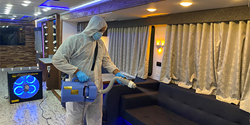 "OTE has invested money and effort to get the industry back on track."
NEW YORK (PRWEB) September 08, 2020
On Time Elite announces that it's safe to use their trailers and buses during the coronavirus epidemic this fall and winter. Known to have the cleanest units in the business before the pandemic, the company is conscious of the risks and doing everything possible to keep talent and production staff healthy and safe.
On any given day before COVID-19 hit, as many as 100 movies, TV shows, commercials, and photo shoots were in production at the same time in New York City. All of that activity halted in March, but now it's time to get back to work.
As industry pioneers, On Time Elite has implemented four protocols that achieve complete sanitation. They've undergone intensive training with one of New York's leading disinfecting-restoration certified cleaning companies. The company has also armored itself with cutting-edge equipment, technology and FDA-approved chemicals to combat COVID-19 head-on.
OTE'S trained professionals wear sterile jumpsuits, gloves, slippers and face masks with plexi-goggles while cleaning the buses. In this safest possible way, they deep clean and sanitize everything, while guarding themselves from all foreign bacteria and viruses.
Next, the units are sanitized with NASA-developed technology. The UVA/ Photocatalytic Hydroxyl/ionized-Peroxide Generator kills airborne bacteria. This technology is safe enough to use in occupied hospital rooms and neonatal units.
To reach potential contamination of surfaces (including fabrics and other porous materials), trained techs fog the bus with First Defense Disinfectant. Within one minute, the fog kills COVID-19, H1N1 Influenza A virus, HIV-1 HBV, and HCV on all surfaces or objects.
Finally, OTE's trained cleaning techs disinfect the entire bus with Clorox cleaning products, which kill 99.9% of germs, bacteria, and viruses. They spray the restroom, wipe the makeup counters, mop the floors, tackle the doorknobs, and wipe down the light switches.
On Time Elite has partnered with a laboratory in New Jersey that administers certified testing for COVID-19. To acquire written certification of cleanliness, OTE will swab and label each surface and send it for lab testing via a special secured delivery box for containment. Certification typically takes 48-72 hours. This optional certification provides the ultimate assurance that working conditions are safe.
In this pristine condition, On Time Elite delivers a highly functional, COVID-free working environment to the hard-working teams who are revitalizing NYC's entertainment industry.
"We're all in this together," said Doron Joseph, CEO of On Time Elite. "OTE has invested money and effort to get the industry back on track."