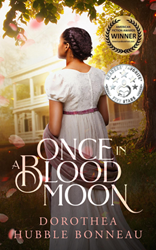 "Did the author know the expanded influence her novel could achieve about race relations, the role of women, protocol, and prejudice buried deep in America's heritage? It's release coincided with the BLM movement. Further, the novel is one of the best adventure novels I've read." PJ Colando, author
DAVIS, Calif. (PRWEB) November 30, 2020
Once in a Blood Moon: Winner, 2020 Best Books Awards; Winner, 2020 American Fiction Awards; Honorable Mention, 2020 New York Book Festival. Published June 11, 2020 by Acorn Publishing: ISBN 978-1-947392-85-4. Available from Amazon and Barnes and Noble.
Once in a Blood Moon by Dorothea Hubble Bonneau
1807: The African American heiress of a prosperous plantation flees for her life when her mother dies and her father is murdered by racists eager to seize her estate.
"Alexandra is a tenacious heroine who's easy to root for, and the author elegantly articulates her precarious position between white and black society. Overall, this novel explores issues of equality and personal freedom in thought-provoking ways. Sharp writing, an original plot, and a strong female protagonist make for an engrossing read." Kirkus Reviews
"This tale of desperation, injustice and courage is a much-needed addition to our grasp of our nation's history. A 5-star reading experience. Highly recommend!" Laura Taylor, Six-time Romantic Times Award Winner
"This riveting book is a great educational resource in our current growing awareness of racism and police brutality." Beulah Amsterdam, Ph.D., author
"Bonneau is a masterful storyteller: a fast-moving plot with surprising twists and turns, expertly drawn characters, and evocative period details bring this intriguing tale to life, creating a true page-turner. Highly recommend." Erie Vitiello, writer
"Story of why black lives matter told by a young, talented heroine." Helen C. Thompson, Amazon reviewer
Dorothea Hubble Bonneau is an award-winning novelist, produced playwright and optioned screenwriter. Inspired by a quest for justice, her work is informed by her love of family, nature, and the arts. She is a winner of the American Fiction Award, a five-star Reader's Choice author, and an honorable mention recipient for fiction in the 2020 New York Book Festival.
Experiences woven into the creation of Once in a Blood Moon
Story inspired by slaves who helped Bonneau's ancestor, a ten-year-old indentured servant, escape from he slave quarters of a South Carolina plantation where young Fowler faced probable death * Service as a Peace Corps Volunteer in Tanzania, East Africa * Study with Dhyani Ywahoo, Twenty-seventh generation Cherokee medicine keeper * Fifteen years of research that included travel to South Carolina, The Dominican Republic and Toledo, Spain * Observing the courage required to maintain self-respect when one is marginalized, from her son Dave who had Down syndrome; the premature death of her father.
###