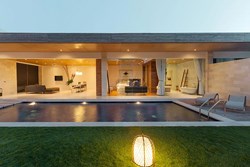 Guests really appreciate the personal attention of One Eleven. The staff take great pride in satisfying the needs of our guests and going over and above to provide the One Eleven experience.
Berlin, Germany (PRWEB) December 30, 2013
Welcome Beyond is proud to announce that Bali's most exclusive resort One Eleven has joined its website showcasing the most memorable vacation homes and small boutique hotels worldwide.
At One Eleven, there are 9 comfortable villas with more than enough space to ensure absolute privacy: Each villa is 350 square meters and comes with its own 14 meter swimming pool and spacious Spa Gazebo. Natural wood and stone define the puristic style of the interiors: "From the moment you drive up to the front door, it's very understated and simple. In today's world, most people are living a very busy, active life. The One Eleven experience gives you everything you need without the clutter," General manager David states.
Staff pampers guests with culinary highlights that are available around the clock. Guests can either chose to dine in the traditional Japanese sushi bar or enjoy a freshly prepared barbecue in their villas along with a cool cocktail. Other in-house services include a variety of traditional Javanese and Balinese treatments and aromatherapies available in the privacy of each villa's own Spa Gazebo.
One Eleven is located near Bali's west coast beaches and the city of Seminyak which is known for its fine restaurants, nightlife and shopping. David recommends the galleries in the city of Ubud for art-lovers, and surfing and diving for adrenaline-junkies. Bali is a year-round paradise yet January and February might be a little rainy. David recommends June to October to come for a visit.