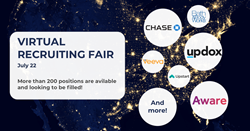 The opportunity for technology to flourish in the Heartland is accelerating as tech companies, large and small, decide to invest in building their businesses outside of the typical tech zones.
SAN FRANCISCO (PRWEB) July 08, 2020
A positive trend gaining traction in the pandemic is that tech talent and companies are discovering the expanding horizons outside of Silicon Valley and coastal cities. One America Works, an organization that bridges the divide between high-growth Silicon Valley companies and emerging tech hubs across the U.S., is creating new opportunities for tech talent and companies by launching in Columbus and Indianapolis. Following on the success of its virtual recruitment event in Pittsburgh, One America Works is celebrating the rich opportunity for innovation with kickoff virtual recruitment events in Columbus, OH on July 22 and in Indianapolis on August 20.
The recruitment events will connect high quality tech talent with top employers, including Aware, Include Health, Veeva, Upstart, JP Morgan Chase and Updox. With entry-level and mid-career positions available across engineering, product, sales and many other disciplines, this virtual recruitment event is a perfect opportunity for tech talent based in high cost cities like San Francisco, Seattle, Silicon Valley, Boston and New York City to make a move. One America Works' first virtual recruitment event took place in May, with hundreds of people signing up for interviews with a dozen Pittsburgh-based companies including Astrobotic and Niche. These Pittsburgh-based employers held nearly 100 interviews with qualified tech talent, of which more than 50 percent had over five years experience and 25 percent were engineers.
What: Virtual Recruitment Event for Columbus-Based Tech Positions
When: July 22, 2pm-7pm ET
How: Attendees can register for the Columbus recruitment event between July 7 through July 19. Participants will be assigned a specific time slot to meet companies one-on-one.
Where: https://oneamericaworks.org/recruiting-fair/
Save the Date: Indianapolis Virtual Recruitment Event on August 20
"In some ways, coronavirus is the great equalizer, helping us realize that in today's connected world, proximity and geography aren't as important as talent and grit. The opportunity for technology to flourish in the Heartland is accelerating as tech companies, large and small, decide to invest in building their businesses outside of the typical tech zones," said Patrick McKenna, founder of One America Works. "Columbus and Indianapolis are two incredible cities on the brink of becoming the next Denver, Austin or Salt Lake City, based on their reasonable cost of living, vibrant communities and emerging tech scenes."
One America Works selected Columbus because of the city's high concentration of residents with STEM degrees, quality of life, affordability and connection to major markets. Columbus has a diverse economy with companies including transportation tech, e-commerce, finance/insurance, retail brands, tech, bio-med/health services and advanced computing. More information about technology opportunities in Columbus here: https://oneamericaworks.org/cities/columbus/
Indianapolis' strategic location and favorable cost of doing business make it a proven choice for growing companies as they seek new locations for expansion and investment. Industries thriving in Indianapolis include aerospace/aviation; agritech, logistics/transportation; advanced manufacturing, and life sciences. One America Works has compiled an overview of the growing technology scene in Indy here: https://oneamericaworks.org/cities/indianapolis/
Founded by Patrick McKenna - an entrepreneur and investor with experience co-founding, operating and investing in several highly successful technology companies - One America Works is bridging the divide in America by spearheading connections between high-growth companies looking to expand and emerging regions across the U.S. that provide high-quality talent and investment opportunities. And this concept is gaining momentum as it creates hundreds of jobs in emerging hubs around the country. The 501c3 non-profit is leveraging a million dollar grant from RK Mellon Foundation to expand into new emerging tech cities this year including Columbus and Indianapolis.
"The Columbus Region is a leading area in the attraction of millennial tech talent, thanks to proximity to top-ranked universities that offer STEM education, along with affordable housing and cost of living," said Kenny McDonald, CEO of One Columbus. "During this challenging time, we look forward to collaborating closely with One America Works to foster new connections between our region, employers and tech talent."
About One America Works
One America Works is a non-profit organization that connects growth companies and talented people across the country, bringing the country together around common goals and values. Founded by entrepreneur and investor Patrick McKenna in 2018, One America Works addresses the geographic economic divide across America by introducing innovative technology companies to new sources of talent located in middle American cities, to bring more people in more places into the modern economy. For more about One America Works, visit oneamericaworks.org or follow the organization on LinkedIn or Twitter.