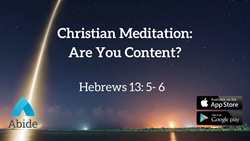 "God designed us to sleep," says Neil Ahlsten, co-founder of Abide. "If you fall asleep in a bad mood or filled with bad thoughts, you sleep poorly and wake up tired and anxious. But if you sleep knowing the peace of Christ, you sleep more soundly, wake up more refreshed, and even dream about God."
SAN MATEO, Calif. (PRWEB) December 05, 2019
Abide, the #1 Christian meditation and sleep app, has helped adults and children alike fall asleep over 25 million times this year using Bible-based bedtime stories. Listeners have recovered from bad dreams and night terrors, quit using sleeping pills, and awakened with refreshed minds.
According to the Center for Disease Control, one third of Americans suffer from poor sleep, which is linked to diabetes, obesity and depression. Sleep is essential for your mood, energy and cognitive fitness. It enhances learning, memory, attention, problem solving and creativity.
Since Abide launched by co-founders Neil Ahlsten and Eric Tse, users have meditated over 1-billion minutes.
"God designed us to sleep," says Ahlsten. "If you fall asleep in a bad mood or filled with bad thoughts, you sleep poorly and wake up tired and anxious. But if you sleep knowing the peace of Christ, you sleep more soundly, wake up more refreshed, and even dream about God."
In 2014 the two former Google employees set out to use new media technology to help people draw closer to God with prayer and meditation. Abide is now used in more than 200 countries and averages 75,000 new user downloads per month.
One Abide user said, "I used to take NyQuil sleeping pills to help me sleep. With Abide I have ditched the pills! I fall asleep every time within 15 minutes. It's beautifully made."
The Abide app is free to download but a paid subscription to Abide Premium gives access to over 1000 hours of premium content, including an ever-growing library of biblically based Sleep Stories, daily meditations, children's stories, calming background music, and a journaling tool.
Download the app for a 7-day free trial and join the thousands across the globe for daily Christian prayer and meditation. It has had over 2-million downloads to date and over 35,000 5-star user reviews.
Abide is available in both the App Store and Google Play store. Full details can be found here.
About Abide
Abide Meditation is a project of Carpenters Code, a small startup located in San Mateo, California. It was started by former Google employees seeking to use their gifts to help bring people closer to God. The Abide mobile app is the world's most popular Christian meditation app, guiding hundreds of thousands of people around the world in biblical truth and personal reflection.