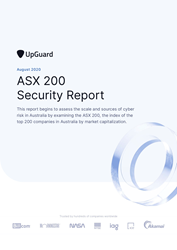 SYDNEY (PRWEB) August 20, 2020
UpGuard, which builds software to help protect companies from data breaches, released their annual ASX200 Security Resilience Report which analyses the data security of the top 200 companies in Australia. The research shows that nearly one in three ASX 200 companies currently have an open data leak, meaning that they are exposing sensitive data to the Internet, and are vulnerable to a potential data breach.
Additional findings from the report include:

The number of ASX 200 companies with open data leaks is increasing year to year, from 29% in 2019 to 32.5% in 2020
Financial services, telcos, and utilities companies have the most open data leaks
More valuable companies (those with a higher market cap) have more open data leaks
"Our annual resilience research in both 2019 and 2020 has been focused on driving awareness of the security posture of the top 200 Australian companies. The most recent research highlights a worsening trend in data exposures but does reveal some positive news," said Greg Pollock, VP of Cyber Research at UpGuard. "When companies are made aware of their data leaks by a researcher, 75% of them take action to remove the leaks, but in the absence of external researchers, those companies remain unaware and at risk."
The full report is available for download at https://www.upguard.com/asx200
Since its founding in 2012, UpGuard has secured hundreds of millions of publicly exposed records and assisted customers in reducing time to assess their vendor security performance by over 40%. Organisations including NASA, the New York Stock Exchange, the NSW State Government, IAG and many others rely on the UpGuard platform.
About UpGuard
UpGuard helps businesses manage cybersecurity risk. UpGuard's integrated risk platform combines third party security ratings, security assessment questionnaires, and threat intelligence capabilities to give businesses a full and comprehensive view of their risk surface. To see how UpGuard works, visit https://www.upguard.com