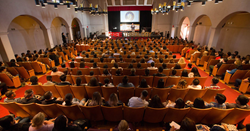 ANAHEIM, Calif. (PRWEB) January 21, 2019
Southern California Bible school offers the community an opportunity to understand the Bible, tuition-free.
For couple Carlos and Ana Perez, tuition-free biblical education has given them more opportunities in leadership at their church and to practice speaking English.
"I always wanted it, but never thought I would actually have the chance to go to college, let alone theology school," Ana said.
Through exercises in public speech, writing and reading, students like Carlos and Ana are learning English through biblical content.
One Logos Theological Seminary provides non-denominational theological education to those who feel called to ministry, or want to grow in faith, or even just want the opportunity to grow in their public speaking skills- whether or not they can't afford it.
To date, the average seminary school costs students over $25,000 a year, and the debt they graduate with often topples $60,000. On humble church salaries, life can remain a struggle for years, and the idea of such adversity can scare students away before they ever start.
"Theology degrees make for meaningful work as counselors, missionaries, social workers, and chaplains," said One Logos instructor Daniel Mota, "So shouldn't education in preparation for these fields be affordable too?"
Last year, One Logos' total registered student body was 1,200 students. "We hope to double our promise to the community this year, expand our resources and offer bigger classes. Especially in 2019, we plan to offer online courses," said Mota. One Logos Theological Seminary hosted a preview event this Saturday, January 19, 2019 at 2p.m. at the Wilshire Auditorium in Fullerton, California.