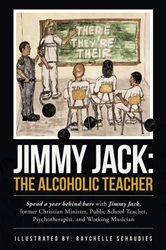 If Jesus were alive in bodily form today, I'm convinced he would spend his time in jails, prisons, and ghettos.
ABILENE, Texas (PRWEB) September 28, 2021
"About two weeks into my county jail stay after being arrested for my 4th DWI, I knew I was looking at four to 10 years in prison. I immediately determined that I was going to turn this into something good, and decided I would write two handwritten pages a day about my life struggles with alcohol and drugs, and the everyday experiences of incarceration. I further decided that I would write the exact same amount every day for one year, and that is exactly what I did," Jimmy Jack says.
In "Jimmy Jack: The Alcoholic Teacher" (published by LifeRich Publishing), Jack narrates his journey and describes how his prison experience literally saved his life. He tells how he, as a genuine Christian with real-time faults and attitudes, was simply trying to survive and come out of the horrible situation a better person through the transforming power of God who had predetermined plans of enlightenment, protection, purpose and survival.
"If Jesus were alive in bodily form today, I'm convinced he would spend his time in jails, prisons, and ghettos. He came to provide inner freedom to the oppressed and outcasts of society, while the learned and wealthy had no use for him," Jack points out. "And since Christians recognize that he is still very much alive through the Holy Spirit, it is not surprising to notice His presence being richly evident in the jails and prisons."
"Jimmy Jack: The Alcoholic Teacher" was written for entertainment, humor, enlightenment, and instruction. By sharing his story, Jack hopes readers will recognize the amazing love of God. "I hope you will share my experiences, and find something in it that will improve your own personal journey as we all must work out our own salvation. And I further hope you will discover the specific plan that the Creator has designed uniquely with you in mind," he concludes. For more details about the book, please visit https://www.amazon.com/Jimmy-Jack-Alcoholic-Christian-Psychotherapist-ebook/dp/B08K3TM3NB/.
"Jimmy Jack: The Alcoholic Teacher"
By Jimmy Jack
Hardcover | 6 x 9in | 772 pages | ISBN 9781489729699
Softcover | 6 x 9in | 772 pages | ISBN 9781489729675
E-Book | 772 pages | ISBN 9781489729682
Available at Amazon and Barnes & Noble
About the Author
Jimmy Jack is a successful former minister, teacher, psychotherapist and musician. He holds three master's degrees and three undergraduate degrees. Jack was a perennial Teacher of the Year in the Texas Public School system, sought-after therapist and public speaker around the state. He is currently a popular guitar teacher and performer, and has written and recorded hundreds of songs.
LifeRich Publishing, the strategic publishing partnership of Reader's Digest and Author Solutions, LLC, was created to provide all writers a platform for sharing their stories, recipes, advice and more. LifeRich authors will benefit from a wealth of editorial design, marketing and education resources, specially created by Reader's Digest editors for the enrichment of these LifeSmart individuals. Books can be published in print, ebook or audio formats, with additional distribution to up to 25 million Reader's Digest customers through its online properties. For more information or to publish a book, please visit liferichpublishing.com or call 844-686-9607.