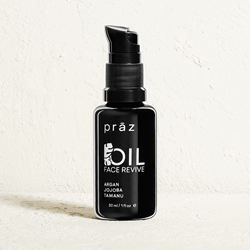 With just 1% use of bioactive ingredient tamanu oil, studies show collagen production can increase 10%­–40%. That is a huge leap in production without extrinsic chemical manipulation.
NEW YORK (PRWEB) July 09, 2020
Prāz Naturals, a skincare company that focuses on fresh all-natural ingredients and clean, easy-to-use products, today announced the launch of their Face Revive Oil. Comprising Argan, JoJoba, and the powerful Tamanu oil, the product works to reveal radiant skin while fighting the signs of aging. The unique active ingredient of Tamanu oil exemplifies Prāz's continued foray into the world of all-natural skincare that delivers actual, lasting, and oft-times eye-opening results.
Escaping free radicals and their manifold environmental causes is next to impossible for anyone living in the industrialized world. Free radical molecules are everywhere: in the air and in the materials that surround humans - whether chemical pollutants, sun exposure or pesticides. Just as they cause the fading of paint or the degradation of plastic, in skin the result is visible aging. Face Revive Oil from Prāz Naturals skincare is a nature-based solution that fights free radicals with a powerhouse blend of moisture-locking oils that revitalize and even out skin tone, keeping wrinkles at bay.
Tamanu oil is extracted from seeds of the tropical evergreen tamanu nut tree. Also known as "Beautiful Leaf" from the Latin, the oil it produces is called "Beauty Leaf Oil." For centuries the oil has been used as a traditional remedy in Polynesia and Southeast Asia to reduce age spots, stretch marks, cellulite, burns and even to prevent blemishes from forming. Since the 1930s the effectiveness of tamanu oil has been studied by researchers revealing it as a significant topical healing agent, featuring antineuralgic, anti-inflammatory, antimicrobial, and antioxidant properties. In fact, a 2009 in-vitro study found that the oil was able to absorb UV light and inhibit 85 percent of the DNA damage induced by UV radiation. Developing products using both extensive research and scientific theory, Prāz Naturals has harnessed the regenerative properties of Tamanu oil to provide the ultimate anti-inflammatory, anti-bacterial, and anti-aging formula.
"Tamanu oil applied to wounds possesses the capacity to promote the formation of new tissue, thereby accelerating healing and the growth of healthy skin. I wanted to find a way to put this into practice when battling free radical damage which causes the skin to lose its collagen and elasticity and leads to a surplus of wrinkles and blemishes." Said Sasha Nialla, Founder, Prāz Naturals. "Tamanu oil really combats that process to keep us looking younger, longer. It's chock full of fatty acids that serve as antioxidants which fight and neutralize the free radicals. These components also contribute to enhanced cell function, resulting in healthier, more vibrant skin. The oil also adds a glow to skin without any residual greasiness or oiliness."
Other ingredients include Sweet Almond Oil, Argan, Jojoba, Rosehip, Rice Bran, and Sea Buckthorn Oil which is an anti-inflammatory rich in vitamins A, B1, B12, C, E and P. It provides deep hydration for dry flakey skin while treating scars and reducing fine lines.
"With just 1% use of bioactive ingredient tamanu oil, studies show collagen production can increase 10%­–40%. That is a huge leap in production without extrinsic chemical manipulation." says Nialla, "It's also fantastic because the nut-containing tamanu fruits are collected from the ground after they have already dropped from the tree; because of this, there's no negative impact on the ecology of the tamanu trees."
In addition to the Face Revive Oil repairing the skin barrier by neutralizing free radicals from the sun, wind, and sea, the oil also diminishes dark eye circles, fine lines, and redness. Some users have also used it as a hair oil. As with all Prāz Naturals products, the oil is formulated with 100% USDA certified organic ingredients and is G.M.O. Free, synthetic-free, paraben-free and cruelty-free.
For more information please visit http://www.praznaturals.com or contact Email.
About Prāz Naturals
Prāz Naturals offers a skincare routine worth celebrating and only gets better as they continue to explore and discover powerful plant-based ingredients. With a foundation built on appreciation, wellness and a commitment to the environment – Prāz ensures responsible business practices and manufactures every product by hand. The ultimate goal is to source and share their products in a way that honors humans, animals, and the planet.