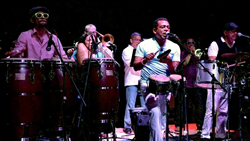 One of the hottest new Latin/Salsa bands in the Bay Area!
SAN RAFAEL, Calif. (PRWEB) January 23, 2019
The Kanbar Center at the Osher Marin JCC brings the multicultural flavors, movement, live music and fun of summer festivals indoors with one of the hottest new Latin/salsa bands in the Bay Area, Somos el Son. Led by Peruvian-born vocalist and percussion master Braulio Barrera, who earned a GRAMMY award for his work with the Pacific Mambo Orchestra, Somos el Son is a relatively new addition to the Bay Area Latin music scene. Launched four years ago, the potent 10-piece combo plays a dance-inducing repertoire of classic salsa and finely wrought originals. A well-traveled and highly versatile musician who played cajón on Gustavo Santaolalla's soundtrack for the 2004 film "The Motorcycle Diaries," Barrera has attracted a world-class cast of players, including trumpeter and Pacific Mambo Orchestra co-founder Steffen Kuehn.
The evening begins with a pre-concert salsa dance class from Santa Rosa Salsa to get attendees up and moving throughout the night, and intermission will offer a dance presentation. Cocktails, brews on tap from State Room Brewery, Hafner wine and light Latin dinners will be available at 7 p.m. from Epicurean Group's own on-site pop-up restaurant.
Come shake off the winter blues with a joyful night of performance, dance and fun! Watch, learn, participate and enjoy!
WHAT: Winter Nights featuring live music from Somos el Son, dinners & dancing
SEATING: General admission & reserved table seating options
TICKETS: $22 – $35 / Student discount for ages 17 & under
WHEN: Sat. Feb 23 || Doors, cocktails, concessions and dinners @ 7 p.m. || Salsa class 7:30
p.m.
WHERE: The Osher Marin JCC, 200 North San Pedro Road, San Rafael
PARKING: Ample FREE parking. Accessing the Osher Marin JCC from Highway 101 is effortless, 1/2 mile E off 101.
MORE INFO: Available at marinjcc.org/arts
The Kanbar Center for the Performing Arts is the Performing Arts Department within the Osher Marin JCC located in Central San Rafael, within 2 blocks of the Civic Center and just 1/3 mile off of Hwy 101.
The Kanbar Center has established a strong and well respected reputation within the community as a center for the performing arts in Marin County. Presenting since 1990, the Kanbar Center is recognized as "a real cultural feather in Marin County's hat" and presents a stunning lineup of world-class performances from emerging and established performers.
Venues include the grand Hoytt Theater, the intimate Kurland Lounge and Swig Field, the outdoor venue nestled against the hills of Marin and home of the award-winning and celebrated Summer Nights festivals.
Performances run the gamut from classical to world music, from dance to comedy and from literary conversations and film to culinary demonstrations. Winter Nights events offer a club experience feel with plenty of room for dancing. Events offer concessions that can be enjoyed in the theater and opportunities to connect with community.