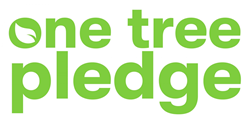 "If we want our families to enjoy our planet, we have to create a more sustainable future." - Michael Ziman, Founder of One Tree Pledge
NEW YORK (PRWEB) November 30, 2020
One Tree Pledge, a new sustainability campaign by Michael Ziman of Ziman Development, helps home dwellers and businesses negate the carbon emissions generated by electricity and natural gas usage. Ziman is inviting everyone to go green and make the One Tree Pledge, agreeing to plant one tree for every one square foot of their property. Tree planting will be coordinated through American Forests, the nation's oldest nonprofit conservation organization, for only $1 per tree. For a one-time-only investment of $1 per square foot, everyone can create a carbon negative footprint for their home/office.
"As a builder, specializing in beach homes, it is important for me to align my outdoor interests with my values. We can offset greenhouse gas emissions from our homes and businesses by planting trees. I invite everyone to join me and make the One Tree Pledge," says Michael Ziman, Founder of One Tree Pledge. "Through our partnership with American Forests, we have made it easy and affordable to plant trees for only $1 per tree. If we want our families to enjoy our planet, we have to create a more sustainable future."
The U.S. Energy Administration reports that the average home (measuring 2,386 sq. ft.) releases 20,260 lbs. of carbon annually through consumption of electricity and natural gas. According to American Forests, the average tree consumes 10 lbs. of carbon each year. If one tree is planted for every one square foot of an average home, the trees would sequester 23,680 lbs. of carbon annually – surpassing the 20,260 lbs. of carbon emissions. Committing to the One Tree Pledge negates the carbon impact of the house and ensures a carbon negative footprint, removing more carbon from the atmosphere than the home emits.
"Forests are the best nature-based solution to climate change," says Jad Daley, President and CEO of American Forests. "Our current rate of carbon emissions is not sustainable, with disastrous effects like the recent unprecedented western wildfires. Now, more than ever, we must take action to combat climate change and restore our forests, ensuring our supply of clean air and water."
All home dwellers, builders and businesses are encouraged to make the pledge. Make the pledge here or learn more by visiting http://www.onetreepledge.org and by following on Instagram @onetreepledge.