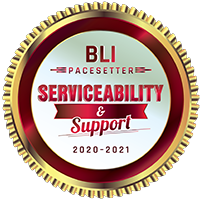 Service and support provide the backbone to satisfied customers.
WOKINGHAM, United Kingdom (PRWEB) September 10, 2020
Keypoint Intelligence, the world's leading independent evaluator of document imaging hardware, software, and services, today announced that Konica Minolta Business Solutions GmbH is the winner of the Buyers Lab (BLI) PaceSetter award 2020–2021 in Serviceability & Support. Based on research conducted in the Western European market, this award recognizes the OEM that has the best-designed tools, programs, and training to enhance the serviceability of its devices.
To determine which OEMs lead the market, analysts at Keypoint Intelligence conducted an in-depth study on serviceability and support. Key areas of evaluation included company vision, in-field support, environment, tools, and training provided to service technicians across direct and indirect channels. The study also had a special section on adjustments for the COVID-19 pandemic, with device design considerations, service administration, and reliability assessed through in-house testing of workgroup devices.
"Service and support provide the backbone to satisfied customers," said Deborah Hawkins, Director of Keypoint Intelligence's Office Group. "Organizations understand how critical the MFP is to business processes and they cannot risk downtime caused by poor support. OEMs have recognized this and are constantly investing in extending the services provided whether through innovative tools, online and virtual training, use of predicative analytics, or improved device design."
Konica Minolta leads the industry with a serviceability strategy focused on the quickest possible resolution of issues. Its "shift left" approach aims to move the resolution of problems closer to the problem source, meaning that customers can easily fix the issue themselves (e.g., through self-service options) or through remote support—opposed to requiring onsite technician visits. Customers can overcome problems through "iTraining" online videos, "eCommerce" portal access, and soon the "Chatrine" self-learning chatbot, which is being piloted in several countries this fiscal year. When it comes to remote support, visual tools like AIRe Link (currently in beta testing) can help the customer quickly resolve problems and even become trained on new technology.
The company also received stellar marks for adapting to the pandemic. The availability of the online training videos as well as free access to remote tools for partners and the public have fostered the successful switch over to remote work. Using tools like AIRe Link, KM Remote Support, CS Remote Care software, Worldwide Remote Service Platform, and Remote Panel, Konica Minolta has championed a "remote by default" method to service and support during this challenging time. Another differentiator has been a Cognito iQ-developed operational performance analytics platform that lets Konica Minolta monitor field service in real time. With the ability to measure customer satisfaction, work completed against plan, and many more key indicators on a live basis, immediate changes can be made to enhance serviceability.
MARK YOUR CALENDARS!
MONDAY, OCTOBER 5, 2020: OUTSTANDING ACHIEVEMENT IN INNOVATION AWARDS FOR PRODUCTION, WIDE FORMAT, PACKAGING, AND SOFTWARE
ABOUT KEYPOINT INTELLIGENCE
For almost 60 years, clients in the digital imaging industry have relied on Keypoint Intelligence for independent hands-on testing, lab data, and extensive market research to drive their product and sales success. Keypoint Intelligence has been recognized as the industry's most trusted resource for unbiased information, analysis, and awards due to decades of analyst experience. Customers have harnessed this mission-critical knowledge for strategic decision-making, daily sales enablement, and operational excellence—improving business goals and increasing bottom lines. With a central focus on clients, Keypoint Intelligence continues to evolve as the industry changes by expanding offerings and updating methods, while intimately understanding and serving manufacturers', channels', and their customers' transformation in the digital printing and imaging sector.
ABOUT BUYERS LAB PACESETTER AWARDS
Based on exhaustive questionnaires, in-depth interviews, and a proprietary rating scale, Buyers Lab PaceSetter awards recognize document imaging OEMs that have shown market leadership in a variety of categories, including with technologies, services, and key vertical markets.
SOCIAL MEDIA
Connect with Keypoint Intelligence on LinkedIn
Follow Keypoint Intelligence on Twitter
CONTACT
Deanna Flanick
+1 973-797-2100
deanna.flanick@keypointintelligence.com