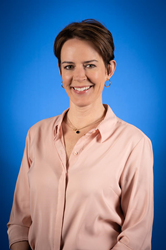 Liza has been emblematic of our mission to improve the lives of our members and communities.
PHOENIX (PRWEB) February 17, 2023
OneAZ Credit Union is pleased to announce that Liza Buchanan has been promoted to SVP Marketing Operations.
"Liza has been emblematic of our mission to improve the lives of our members and communities. She has been a champion of promoting greater communication and collaboration between departments and has worked to optimize business partner relationships and campaign strategies. Liza has also been a tireless advocate for local nonprofit organizations in the communities we serve," said Deborah Pearson, EVP Chief Marketing and Experience Officer.
Liza's experience includes over 20 years in marketing, strategic planning, business management, and community development. Before joining OneAZ in 2022, Liza served as Director of Rural Programs for Local First Arizona and Founder of Ignite Brand Marketing. Additionally, Liza is an Adjunct Professor for University of Phoenix and serves on the Multicultural Advisory Board for ONE Community.
Liza has also been nationally recognized by the Boys & Girls Club of America for nonprofit digital marketing and strategy development. She received her master's degree in Business Administration from Grand Canyon University and her B.A. in Marketing from Arizona State University.
About OneAZ Credit Union
OneAZ Credit Union is a member-owned financial institution serving 160,000 members with 20 branch locations across Arizona. As a credit union with over $3.0 billion in assets, OneAZ is owned by its members, who benefit from better rates, lower fees for service and improved technology. Since 1951, OneAZ has strived to help Arizonans meet their financial needs through a full suite of personal and business banking solutions. OneAZ's mission is to truly improve the lives of its members, its associates, and the communities it serves. To learn more, visit OneAZcu.com. Insured by NCUA.