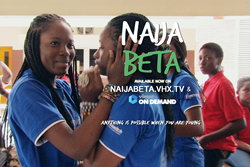 "While the characters in NAIJA BETA are Nigerian, the film speaks more broadly to the current wave of Africans in the diaspora who are returning to figure out their place on the continent."
Boston, MA (PRWEB) April 13, 2017
One Day I Too Go Fly Inc, an independent production company creating films exploring new narratives about Africans and Africa in a globalized age, has released its first film NAIJA BETA. The documentary is now available worldwide on the VOD platforms VHX and Vimeo. The release comes after a year of film festival engagements in Europe, Africa and North America where NAIJA BETA garnered several awards.
NAIJA BETA follows a team of Nigerian and Nigerian-American undergraduate students at the Massachusetts Institute of Technology (MIT) who launch and run Exposure Robotics Academy (XRA), a robotics camp for teenagers, in Lagos, Nigeria. Propelling its action through a competition drama set-up, the film explores youth entrepreneurship, STEM education, and African diasporan homecoming in present-day Nigeria.
"This heart warming documentary often finds itself deviating from its mission and submerging itself in the complexities of human emotions that are unfolding around it. Fortunately, deviating from its simple set up is what makes NAIJA BETA a masterpiece in its own right. It is a documentary that examines the fears of children of Africa and what lies ahead for them and the ones rediscovering home even while they were not looking," wrote Hafeez Oluwa, reviewing the film at the 2016 Africa International Film Festival (AFRIFF) in Lagos for Sodas N Popcorn, the largest movie database in Nollywood.
The film premiered at the 2016 Pan African International Film Festival in Cannes, France. Since then, it has won the following awards: Best Documentary Feature - Urban Mediamakers Film Festival 2016; Best Documentary Short - Roxbury International Film Festival 2016; Achievement in Documentary Film, Feature Length - Silicon Valley African Film Festival 2016; and the High Output Director Award - Arlington International Film Festival 2016. It was also nominated for Best Humanitarian Film at RapidLion: The South African International Film Festival 2017.
NAIJA BETA is directed by Arthur Musah, an engineer turned filmmaker whose own journey from Ghana to MIT, where he earned a bachelor's and a master's degree in electrical engineering and computer science, informs his films. After studying filmmaking as an Annenberg Fellow at the University of Southern California's School of Cinematic Arts, Musah returned to MIT to embark on a multi-year study of African youths coming of age at the iconic American college. NAIJA BETA marks his directorial debut, and is the first of two films resulting from the project. The second film, ONE DAY I TOO GO FLY, is in post-production. NAIJA BETA is produced by Arthur Musah and Brook Turner.
"While the characters in NAIJA BETA are Nigerian, the film speaks more broadly to the current wave of Africans in the diaspora who are returning to figure out their place on the continent," said Musah. "The film documents early efforts by ambitious young African entrepreneurs, and that resonates."
Since graduating from MIT, NAIJA BETA protagonist Obinna Ukwuani and his XRA cofounder Obinna Okwodu have moved to Nigeria to launch new businesses. Okwodu is making rental housing affordable for professionals in Nigeria with his new venture Fibre. Ukwuani continues to impact STEM education in Nigeria with his CNN-featured startup Makers Academy, which recently launched its New Economy Skills Accelerator (NESA) program. NAIJA BETA main character Jemima Osunde was eager to leave Nigeria as a high-school student learning to program robots at the XRA, but now studies at the University of Lagos' College of Medicine and is a rising star of Nigerian television and film.
The film has engaged audiences at community screenings such as Girls Day at the MIT Museum and Global Entrepreneurship Week at the African Leadership University. The Yale Undergraduate Association for African Peace and Development will screen NAIJA BETA and host filmmaker Arthur Musah as a panelist at its conference April 14-15, 2017.
NAIJA BETA continues its festival run, making its New York Premiere at the 24th New York African Film Festival. The screening will take place at the Maysles Cinema in Harlem on May 20th, 2017.
For the latest news about NAIJA BETA, please visit http://pidgincinema.com/ or the film's Facebook page.