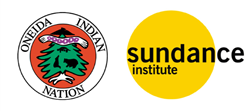 It is important that we pass on our legacy to future generations of our people, as well as to the broader population in this country and in the world.
ONEIDA NATION HOMELANDS (PRWEB) September 19, 2018
Oneida Indian Nation today announced a multi-faceted collaboration with Sundance Institute, the non-profit organization founded by Robert Redford to provide dynamic support at every step of the creative journey for individuals with distinct voices in film, theatre, film composing, episodic storytelling and emerging platforms. The joint initiative is designed to expand the reach of Native storytellers in Upstate New York through local film screenings and workshops, as well as a yearlong Fellowship for one local aspiring Native filmmaker, who will be announced in early 2019.
To kick off the initiative, Sundance Institute and the Oneida Indian Nation will host a film series at Turning Stone Resort Casino on Saturday, October 13, beginning at 8 p.m. The free and open-to-the-public presentation will include an introduction by Sundance Institute senior staff and a curated series of short films by award winning Native filmmakers from around the country including Shaandiin Tome who directed the film "Mud," which will screened during the evening. After the screening concludes, Tome will participate in a Q&A session to discuss her film, the art of filmmaking and the opportunities presented by being a Sundance Institute Fellow. Guests interested in attending the October 13th film series event at Turning Stone should RSVP to Sarah.Koral (at) turningstone (dot) com or 315.361.8191.
"It is important that we pass on our legacy to future generations of our people, as well as to the broader population in this country and in the world," said Oneida Nation Representative and Nation Enterprises CEO Ray Halbritter. "By collaborating with Sundance Institute's Native American and Indigenous Film Program, we can help fulfill our longstanding commitment to arts and culture and bring national and international attention to the range of talent that exists in our region."
The Syracuse International Film Festival has included this special approximately 90-minute evening event in its official program, complementing its broader Native filmmaking offerings. The Syracuse Film Festival will take place October 10-14 in downtown Syracuse.
For more information about the October 13 Native film series at Turning Stone Resort Casino, visit the Oneida Nation website.
Additional Sundance Institute and Oneida Indian Nation sponsored events for 2019 will be announced soon.
About the Sundance Institute 2018 Native Shorts Presentation:
Sundance Institute has established a rich legacy of commitment to Native filmmaking, supporting more than 300 Native and Indigenous filmmakers over the years. The Institute's Native American and Indigenous Film Program has built and sustained a unique support cycle for Indigenous artists through grants, mentorships, fellowships, the platform of the Sundance Film Festival, and screenings in Native communities to inspire new generations of storytellers. The Native Program's 2018 Native Shorts presentation includes six short films by Native American filmmakers. This year's films include: "Mud (Hashtł'ishnii)"- Shaandiin Tome (Diné), "Shinaab"- Lyle Mitchell Corbine Jr. (Bad River Band of the Lake Superior Chippewa Indians), "Nucca"- Michelle Latimer (Métis/Algonquin), "The Violence of a Civilization Without Secrets" - Adam Khalil (Ojibway), Zack Khalil (Ojibway), Jackson Polys (Tlingit), "Jáaji Approx."- Sky Hopinka (Ho-Chunk/Pechanga) and "alter-Native"- Billy Luther (Navajo, Hopi and Laguna Pueblo).
About the Oneida Indian Nation:
The Oneida Indian Nation is a federally recognized Indian nation in Central New York. A founding member of the Haudenosaunee Confederacy (also known as the Six Nations or Iroquois Confederacy), the Oneida Indian Nation sided with the Americans in the Revolutionary War and was thanked by Congress and President George Washington for its loyalty and assistance. Today, the Oneida Nation consists of about 1,000 enrolled Members, most of them living in Central New York. The Nation's enterprises, which employ more than 4,700 people, include Turning Stone Resort Casino, Yellow Brick Road Casino, Point Place Casino, Maple Leaf Markets, SāvOn Convenience stores, RV Park, three marinas, Tin Woodman's Flask, a wine and spirits superstore, and Four Directions Productions, a 3D animation HD cinematography studio. Proceeds from these enterprises are used to rebuild the Nation's economic base and provide essential services, including housing, health care, and education incentives and programs, to its Members.
For more information, visit http://www.OneidaIndianNation.com.