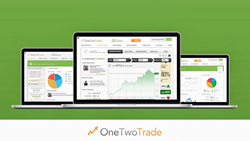 London, United Kingdom (PRWEB) November 04, 2014
OneTwoTrade, a leading provider of binary options trading solutions, today announced that is has extended its already significant variety of payment options to include support for Bitcoin, the world famous crypto-currency. The roll-out of support for Bitcoin provides the company with an opportunity to reinforce its commitment to providing clients with greater flexibility, and comes at a time when consumer interest in crypto-currencies is steadily growing.
Bitcoin is a digital currency and payment system powered by a peer-to-peer network. It is extremely versatile and facilitates the instant, secure transfer of funds between any two people – or organizations – in the world. Bitcoin has developed a reputation for being extremely secure in large part due to the way the system was originally designed. Throughout the Bitcoin peer-to-peer network there are in aggregate thousands of computers that work together to ensure the safety of Bitcoin payments.
The intersection of Bitcoin with binary options trading is brand new, and OneTwoTrade is the first major broker to support this type of payment. As the popularity of crypto-currencies grows, the company expects that it will see a steady rise in the volume of transactions being executed on its platform using alternative payment methods like crypto-currencies.
"Since the dollar was decoupled from gold in 1971, it has lost 97% from its golden metal and 83% of its domestic purchasing power, and I don't think it's going to stop any time soon. Most people don't realize that this is a massive technology that will change the financial industry for good. OneTwoTrade is looking on it as a chance to be the first merchants in this industry to accept Bitcoin," said Samuel Falcon, the company's Chief Operating Officer.
The company has integrated Bitcoin into its payment system in a straight-forward manner by selecting GoCoin to power its Bitcoin payments infrastructure. From a client perspective, making a deposit using Bitcoin is simple. At the time of making a deposit, rather than selecting one of the traditional payment methods, clients can simply select Bitcoin as the payment method. From that point clients are taken to a secure payments area where they can finalize their Bitcoin payments.
Although banks play an important role in the financial system, Bitcoin has proven that a decentralized payment system – one in which transactions and the issuance of new units of currency are not controlled by a central authority – can provide substantial benefits to consumers and merchants alike. The advantages of Bitcoin for consumers, in addition to the core security benefits, include the fact that it facilitates rapid international payments and the fact that the fees associated with the transfers are extremely low, particularly when compared with conventional banking fees.
The company's support for crypto-currencies is not limited to Bitcoin, however. The company today also announced support for Litecoin, an alternative crypto-currency that has generated significant consumer interest in recent months. The company says it plans to continue expanding its variety of supported payment methods as new payment systems become available in the months and years ahead.
About OneTwoTrade
OneTwoTrade is a leading provider of binary options trading solutions. The company provides powerful web and mobile-based trading applications that enable individual investors to invest in binary options tied to a variety of underlying assets spanning currencies, stocks, commodities and indices. With its range of additional services – including personalized one-on-one training, free online learning resources and daily market insights – the company is committed to ensuring that its clients achieve success in the financial markets. Visit OneTwoTrade.com to learn how OneTwoTrade can help you achieve your investment objectives.