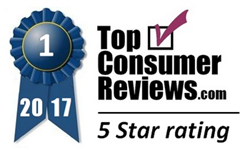 We love everything Crash Plan has to offer, and their Online Backup service earns our top rating in 2017.
Overland Park, KS (PRWEB) August 21, 2017
TopConsumerReviews.com recently gave a best-in-class 5-star rating to Crash Plan, a leader among Online Backup services.
When a computer crashes, what happens to the data? If a person is lucky, they can take their machine to a local electronics store and hope that their photos, documents, and other digital files can be salvaged. More often than not, however, this information is irretrievably lost. For this reason, having a backup system is critical to protect one's important electronic details. While backup hard drives are prone to failure, using an Online Backup service can protect customers' files easily and affordably, without running any risk of being damaged in a house fire or stolen in a burglary.
"Affordability, reputation, and ease of use: these are the hallmarks of Crash Plan's Online Backup services," described Brian Dolezal of TopConsumerReviews.com, LLC. "Not sure if Crash Plan is for you? Give it a try for free: you can backup to a friend's hard drive or your own external device at no charge. If you're interested in unlimited cloud storage, Crash Plan will give you 30 days to try their service for free, and paid plans start at the extremely reasonable price per month. Included features are encrypted storage, file versioning, anywhere access, and fully-automated backups, among others. We love everything Crash Plan has to offer, and their Online Backup service earns our top rating in 2017."
To find out more about Crash Plan and other Online Backup services, including reviews and comparison rankings, please visit the Online Backup services category of TopConsumerReviews.com at http://www.topconsumerreviews.com/online-backup/.
About Crash Plan
CrashPlan offers the most comprehensive online backup solution to hundreds of thousands of consumers and tens of thousands of businesses around the world. Their highly secure, automatic and continuous service provides customers the peace of mind that their digital life is protected and easily accessible. CrashPlan is part of the Code42 group of brands, trusted by the most recognized brands in business and education, including Expedia, Procter & Gamble, Genentech/Roche and Harvard. Code42 is headquartered in Minneapolis and backed by Accel Partners and Split Rock Partners.
About TopConsumerReviews.com
TopConsumerReviews.com, LLC is a leading provider of independent reviews and rankings of hundreds of consumer products and services. From Online Backup to Internet Filters and Home Security Systems, TopConsumerReviews.com delivers in-depth product evaluations to make purchasing decisions easier.