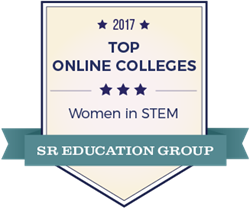 Factors considered include proportion of female STEM graduates and presence of online resources for women in STEM, among other factors indicative of support.
Kirkland, Washington (PRWEB) June 21, 2017
SR Education Group, a leading education research publisher founded in 2004, has just released its findings regarding online colleges and their support for women in science, technology, engineering, and mathematics (STEM) fields of study. The organization researched factors indicative of support for women in STEM and assessed schools across several categories. The results are compiled into a report of the 2017 Top Online Colleges for Women in STEM, which lists 64 colleges offering fully online degrees and providing exceptional support.
SR Education Group's study utilizes the definition of STEM fields provided by the National Center for Education Statistics (NCES), which includes agriculture and natural resources, architecture, biology and biomedical sciences, computer and information sciences, engineering and engineering technologies, health studies, mathematics and statistics, and physical and social sciences. In order to be considered for inclusion in the Top Online Colleges for Women in STEM list, schools were required to offer at least 10 fully online STEM degrees at the bachelor's level or higher.
For colleges that met the criteria, SR Education Group calculated a STEM-Friendly Score, which reflects the level of support for women in STEM. The algorithm employs data from the NCES, the American Society for Engineering Education (ASEE), and schools' official websites. Factors considered include proportion of female STEM graduates and presence of online resources for women in STEM, among other factors indicative of support. SR Education Group assessed the colleges' performance in each category, weighted each factor based on relative importance, and combined all weighted scores to determine overall STEM-Friendly Scores. 285 colleges were considered, and 64 made the list.
The report, released on GuidetoOnlineSchools.com, also highlights a list of the Top 15 Online Schools Supporting Women in STEM. The featured colleges all received the highest possible score in the online support category and are ranked by STEM-Friendly Score. Southern Methodist University earned the #1 spot, with an impressive 93.54 out of 100. All colleges included in the ranking scored above 78.
In addition to evaluating schools' support for female STEM students and calculating STEM-Friendly Scores, SR Education Group also manually researched annual tuition rates for each school in order to develop a list of the 2017 Most Affordable Online Colleges for Women in STEM. The resource, available on OnlineU.org, lists the 25 top colleges offering the lowest annual tuition rates. Texas Tech University is ranked first, with an annual rate of $6,480. The average rate of the ranked schools is $12,207. Two colleges made both the most affordable and top online support for women in STEM rankings: George Washington University, ranked 6th for affordability and 12th for online support, and Colorado State University-Fort Collins, ranked 19th for affordability and 11th for online support.
About SR Education Group
Headquartered in Kirkland, WA, SR Education Group was founded in 2004 by CEO Sung Rhee. The company's mission is to create authoritative online resources for students seeking an online education program that best suits their budget and career aspirations. SR Education Group is passionate about making quality education attainable for everyone and believes that objective information about education, careers, and educational financing should be free and easily accessible. For more information, please visit http://www.sreducationgroup.org/.