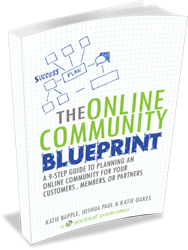 We set out to take the large process of launching an online community and lay it out in simple steps that people with all levels of community-building experience can embrace.
Gilbert, AZ (PRWEB) August 19, 2015
Socious, a leading provider of online community software, announced today that the company has published its first book, The Online Community Blueprint: A 9-Step Guide to Planning an Online Community for Your Customers, Members or Partners.
In 15 years of launching successful online communities for businesses, associations, and use groups, Socious uncovered an unfortunate trend. Organizations can get so overwhelmed by the process of planning and launching an online community that the project loses momentum completely.
Authors Katie Bapple, Joshua Paul and Katie Oakes sought to create an actionable resource to help business leaders bridge this gap.
"Building community is a new business strategy for many organizations. In The Online Community Blueprint, we set out to take the large process of launching an online community and lay it out in simple steps that people with all levels of community-building experience can embrace. " said lead author and long-time authority on managing online communities, Katie Bapple.
The book outlines practical steps for aligning the online community's value proposition with the company's target audience, creating a content calendar, and establishing key online community metrics.
"I've talked to countless frustrated people at organizations of all types and sizes who know they need an active customer community to grow, but have little idea where to start. We wanted to provide tactical advice based on the success that our customers have had," said Joshua Paul, Senior Director of Strategy and Marketing at Socious.
Socious is known for providing resources to educate business executives and nonprofit leaders on what it takes to create an active customer community and how to leverage that engagement to improve business performance. The Socious Online Community Blog, ebooks, and videos are some of the web's most popular places to find best practices and community management tips. Socious's new book takes readers through the entire process of planning and launching a private online community.
The book includes answers to real online community planning questions before they become major roadblocks for organizations wishing to leverage peer-to-peer customer engagement. Each chapter has easy-to-follow information that will take the fear out of implementing an online community for customers, partners, or members.
Paul continued, "Socious is always seeking to provide online community software and services to help companies maintain stronger relationships with the people that matter most to their organization – their customers. We are thrilled to continue to expand our resource library with this latest publication."
The first five chapters are available for free at OnlineCommunityBlueprint.com. The book is available for purchase online at socious.com/amazon.
About Socious
Founded in 2002, Socious (socious.com) offers the world's most complete online community software to businesses, associations, and user groups. The Socious platform manages over 1.3 million customers for many of the world's top companies and membership organizations. Socious's peer-to-peer community software includes private social networking, customer communication tools, discussion forums, membership management, collaboration tools, and integration with other major platforms to help organizations increase revenue, retention, and member engagement. Socious provides a full range of professional services to help organizations plan, launch, and manage their online community. Take an online tour of Socious online community software.
###