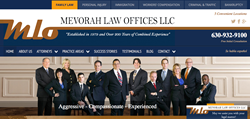 OVC, INC. is proud to announce the new website for the Lombard full service law firm Mevorah Law Offices LLC.
Chicago, IL (PRWEB) September 30, 2015
Chicago-based OVC, INC. is proud to announce the launch of the new website for Mevorah Law Offices LLC, located in Lombard, Illinois. The new website showcases the benefits of emerging web design practices including responsive design, and the use of subdomains.
Mevorah Law Offices LLC's new website was designed using responsive design technology. Responsive design is a website design process which provides users with an optimal viewing experience. Responsive design websites respond to their environment and offer easy viewing and navigation on nearly any device. Responsive websites are optimized for desktop computers, laptops, smartphones, iPads and tablets.
The new website for Mevorah Law Offices LLC features one main website with five unique subdomains to organize and highlight the firm's concentrated practice areas, which include: family law, personal injury, immigration, workers' compensation, criminal law and traffic, and bankruptcy. Simply put, a subdomain is a domain tagged onto an existing domain, which is considered a separate domain by search engines. Subdomains can help boost the authority of a website on search engines and they help reinforce the ranking on the main website, even though they are treated as separate entities. For a full service law firm such as Mevorah Law Offices LLC, the subdomain structure was an effective manner to organize the expansive amount of information the firm has to offer to potential clients.
The new website for Mevorah Law Offices, LLC can be viewed here: http://www.mevorahlaw.com/
About OVC, INC:
Founded in 2008 by Greg Wildman, the online lawyer marketing company, OVC, INC.
effectively manages over 200 websites across the country. The dedicated team at OVC, INC. consists of experienced content writers, web developers, designers, marketers and SEO specialists.
The online lawyer marketing company offers services that stretch far beyond website design including: social media, press releases, reputation management, pay-per-click campaigns, legal directories, content writing and search engine optimization. OVC, INC. is dedicated to exceptional customer service with efficient turn around times and creative content and design.
Contact OVC, INC. today to learn more about the benefits of responsive design, subdomains and the other unique marketing services the online lawyer marketing company has to offer. Call 630-480-2897 or fill out the online contact form to obtain a free quote or evaluation of your current website.