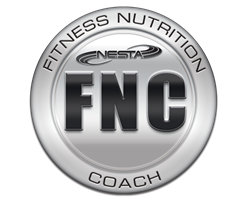 Every health and fitness professional must earn the proper credentials to offer nutrition counseling. NESTA provides an affordable solution.
Rancho Santa Margarita, CA (PRWEB) December 03, 2013
Believe it or not, the average adult will gain 3- 7 pounds this holiday season. The National Exercise & Sports Trainers Association (NESTA) offers an online Fitness Nutrition Coach certification program at for fitness and nutrition coaches to help people get back on track post-holidays.
The Fitness Nutrition Coach certification teaches proven techniques for helping clients increase energy, improve their health and decrease dependency on medications as well as strategies for launching a lucrative fitness and nutrition business. In addition, it offers information about specific nutrition populations such as vegetarians, pregnant and menopausal women, young and old clients, diabetics and more.
"What better time than the sugar-coated Halloween season to focus on both fitness and nutrition together?" said Dr. John Spencer Ellis, founder of NESTA, a fitness and personal development solutions company. "We are proud to offer a state-of-the-art Fitness Nutrition Coach certification that helps people help others when it comes to creating healthy nutritional habits."
NESTA's Fitness Nutrition Coach program is designed for personal trainers, life coaches, registered dietitians, certified diabetes educators, registered nurses and others who are interested in the latest advancements in nutrition as well as additional income opportunities in the health and fitness industry. The business and marketing component of the program teaches students how to increase income by creating nutrition information products such as audio lessons, educational books and videos, becoming a nutritional speaker or developing a membership website which offers healthy living advice.
"You can watch your clients, friends and family pick up a lot of empty calories in those holiday meals and treats, and maybe indulge in all of those leftovers, or you can decide that now is the perfect time to enhance your knowledge about nutrition and fitness and make a positive change," Ellis added. "NESTA's Fitness Nutrition Coach certification can be that healthy change in your life and in the lives of others."
Topics covered included nutrition concepts, nutrition requirements, assessing nutrition needs, understanding alternative approaches, performance nutrition and more. The Fitness Nutrition Coach certification from NESTA is 100% online.
About the National Exercise & Sports Trainers Association
Since 1992, the National Exercise & Sports Trainers Association (NESTA) has been a leader in innovative solutions for fitness, nutrition and wellness professionals, as well as club owners. Founded by John Spencer Ellis, NESTA now has more than 55,000 members in 55 countries, and it is one of the largest fitness associations in the world, as well as the fastest growing association of its kind in the United States. For more information on the NESTA Personal Fitness Trainer certification, please visit http://www.nestacertified.com/nutritionist/.