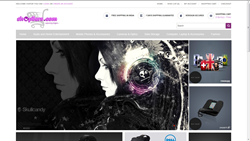 We are now offering free shipping on all orders that we ship to our Indian clients. We ship our Indian customers' orders via ARAMEX, Bluedart, DTDC, Speed Post, First Flight, Registry Post, etc."
New Delhi, India (PRWEB) May 29, 2014
Based in New Delhi, India, Shopllers.com is one of the leading online retail stores that offer quality electronic devices at the most reasonable prices. Since the year Shopllers.com started providing its services to Indian and foreign customers, it has been striving to provide them with the highest level of customer satisfaction through the best quality products available in its inventory. Accordingly, when it comes to offering great gadgets and consumer electronic devices at the best prices, none matches the excellence, expertise and acumen of folks working with Shopllers.com. With intent to provide an enjoyable buying experience to existing and prospective clients, the online gadget store is now offering costless shipping on all orders shipped to India.
Speaking about the costless shipping offer, a senior company official at Shopllers.com told us, "Gone are the days when people were apprehensive about buying gadgets, such as mobile phones, accessories, gaming consoles, IT related products, and other electronics online, since they were never sure about receiving their orders at all. However, with the advent of online gadget sites, such as ours, now they can freely order anything online and that too, from the comfort of their homes or workplaces. Since we strive to maximize their buying experience, we are now offering costless shipping on all orders that we ship to our Indian clients. We ship our Indian customers' orders via ARAMEX, Bluedart, DTDC, Speed Post, First Flight, Registry Post, etc."
Shopplers.com utilizes the expert services provided by PAY U and EBS to ensure quick, simple, and secure online payments. Accordingly, the company offers 7 days shipping guarantee since folks at Shopllers.com know that their shipping partners are the best in business. Furthermore, the company accepts all debit cards, credit cards, cash cards, and online banking modes of payments.
Talking about various gadgets and electronic devices available at Shopllers.com, the senior official told us further, "We, at Shopllers.com, have always believed in projecting ourselves as a comprehensive inventory of all sorts of electronic devices. Accordingly, at our online gadget store, our existing and prospective clients can purchase almost every gadget they would need to satiate their needs. Our clients can explore our inventory for purchasing the most high-end gaming consoles, accessories, headsets, headphones, home theatres, mobile phones, mobile accessories, cameras, camcorders, camera lenses, DSLR cameras, hard disk drives, pen drives, laptops, and backpacks."
Staying true to its motto, i.e. Empowering Shoppers, the online gadget store has now successfully become a one-stop destination for shoppers craving for empowerment through the best gadgets on sale. If you are looking for top online shopping sites in India, you can visit http://www.shopllers.com/ to buy mobile accessories, cameras, camcorders, camera lenses, DSLR cameras etc. at best possible prices.
About Shopllers.com:
With intent to offer the best gadgets and electronic devices at reasonable prices, Shopllers.com is doing commendable job in providing gadget freaks with their chance of grabbing their preferred gadgets. Founded by Piyush Bhartia and Praveen Chirania, the online gadget store deals in a wide variety of gadgets like mobile phones, gaming consoles, cameras, camcorders, pen drives, hard disk drives, and IT related products. If you are looking for the best camera prices in India, you can visit http://www.shopllers.com/cameras-optics, or if you are searching for Canon camera online, you can contact the folks at Shopllers.com.
Contact Details:
B-198, Basement
Krishna Market, Lajpat Nagar- 1
New Delhi
India
Mobile: 91-11-29820848
Landline: 011-29820848
Website: http://www.shopllers.com/