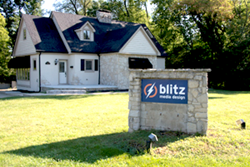 Our manufacturing background gives us special insight into effective marketing strategies for these complex industries
Dayton, Ohio (PRWEB) November 18, 2015
Blitz Media Design announced the opening of their new Dayton office. Located in the historic district of Centerville, the new 3000 SF facility is conveniently located to over 2500 regional manufacturers.
Blitz Media Design is a go-to resource for industrial and manufacturing firms. The principal partners both have a manufacturing background, and bring proven digital marketing strategies to this market segment.
According to Craig de Fasselle, "We relocated in Dayton to serve its growing manufacturing base. Our manufacturing background gives us special insight into effective marketing strategies for these complex industries."
The company's new office is designed to facilitate collaboration with clients to deliver more customers and sales. Located in the historic district of Centerville, the office is close to both I-75 and I-675.
About Blitz Media Design
Started as Web Refinements in 1999, the Ohio marketing and design firm serves clientele across the globe. "Designing for Results" is more than the company's slogan — it's how the firm delivers relevant, practical marketing and website strategies. The company designs for what matters most: customers and sales.
The company believes that design is not simply about art — a successful design project has specific marketing goals, and requires a collaboration of the client's product or service expertise with Blitz Media Design's usability and design experience.
Blitz Media Design services include:

Digital marketing strategy development
Execution of strategies through website and graphic design
Continuing marketing services to help business growth
For further information, please visit http://www.blitzmediadesign.com or call 937-985-1510.