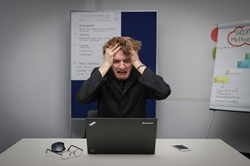 Backblaze makes it easy and affordable to get an effective online backup of all of your critical files.
Overland Park, KS (PRWEB) November 29, 2020
TopConsumerReviews.com recently gave a best-in-class 5-star rating to Backblaze, a leader among Online Backup services.
Recovering from a data loss event or security breach can be a difficult and expensive problem for businesses and individuals alike. While hard drives offer one means of storing data, they're also prone to being damaged, accidentally erased, stolen or experiencing mechanical failure. That's where online backup services come in - to back up, secure, and, if needed, restore files. Data is migrated continuously to the services' cloud storage facilities, with very little input needed on the part of the subscriber. Online backup continues to be the smartest choice for protecting important files from hacking, loss, and corruption.
"Backblaze makes it easy and affordable to get an effective online backup of all of your critical files," affirmed Brian Dolezal of TopConsumerReviews.com, LLC. "Personal and business plans are both $60 per year for unlimited storage - you'll have a hard time finding that pricing anywhere else. These plans include several attractive features, such as a 15-day free trial and hard drive restoration via mail anywhere in the world. The Business Backup plan also comes with ransomware protection, single sign-on, and a helpful web-based administration console to manage data across employees or users. Subscribers to Backblaze say that the customer service team is excellent, and that setting up and using this online backup platform is intuitive and easy. Because Backblaze has such a strong reputation for being effective and competitively priced, we are pleased to give them our highest ranking among online backup services in 2020."
To find out more about Backblaze and other Online Backup services, including reviews and comparison rankings, please visit the Online Backup services category of TopConsumerReviews.com at https://www.topconsumerreviews.com/online-backup/.
About Backblaze
Backblaze began in 2007 with a mission to make backup software elegant and provide complete peace of mind. The service offers Personal Backup, Business Backup, and B2 Cloud Storage to clients in more than 150 countries, with over 50 billion files serviced and over 1 exabyte of customer data stored to date.
About TopConsumerReviews.com
TopConsumerReviews.com, LLC is a leading provider of reviews and rankings for thousands of consumer products and services. From Online Backups to Data Recovery and Identity Theft, TopConsumerReviews.com delivers in-depth product evaluations in order to make purchasing decisions easier.