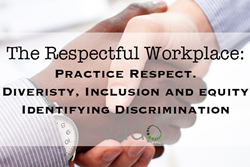 ENCINO, Calif. (PRWEB) June 23, 2020
Many companies know how important it is to make improvements when it comes to diversity, discrimination, and inclusion, but they may not know exactly know how to it. They also know their staff needs training on these issues as well, if they are to have a cohesive team that is on the same page. Business Training Media is offering an online course, called "Practice Respect – Anti- Discrimination, Diversity & Inclusion," to help companies understand these issues and be successful in this area.
"We have a long history of helping to train businesses on a wide variety of topics," explains Myron Curry, founder of Business Training Media. "This course on diversity and inclusion is one that can play an important role in helping to set the tone within a company and on a team. Now is the perfect time for this type of training to become a priority."
"Practice Respect – Anti- Discrimination, Diversity & Inclusion" is a convenient self-paced online course that provides users with a full year of access. The course aims to help organizations be able to identify and encourage diversity, as well as teach them how to support an inclusive work environment. The three program training models, which are 8-12 minutes each, are:
1. The Respectful Workplace: Introduction
2. The Respectful Workplace: Identifying Discrimination
3. The Respectful Workplace: Diversity, Inclusion and Equity
The course focuses on promoting a positive workplace by using video scenarios. Those who take the training course will learn about the benefits of your team adhering to an anti-discrimination policy that respects diversity. The course focuses on exploring workplace discrimination, including what it is and how to identify it, as well as how to encourage diversity and support an inclusive workplace.
"Anti-discrimination and diversity are important issues that can no longer be overlooked," added Curry. "By having your employees engage in a course like this, your business will be far better off, and you will be creating a team that can thrive together."
"Practice Respect – Anti-Discrimination, Diversity & Inclusion" training course can be found online: https://www.businesstrainingmedia.com/practice-respect-anti-discrimination-d-i.php
Business Training Media offers over 6,500 training products, including online courses in management, cybersecurity, customer service, sexual harassment, COVID-19 resources, and more. The company has provided training for such companies as Bank of America, FedEx, Verizon, Google, Yahoo, IBM and more. To learn more or register for the course, visit the site: https://www.businesstrainingmedia.com/
About Business Training Media
Founded in 1998, Business Training Media offers thousands of training products for corporations. Based in Encino, Calif., it provides business training solutions for companies worldwide. It has had over 26,000 customers, including many Fortune 500 companies. Its training tools are available in multiple delivery options, including online, video streaming, e-learning courses, DVD, USB, webinars, books, games, and more. To learn more, visit the site: https://www.businesstrainingmedia.com/