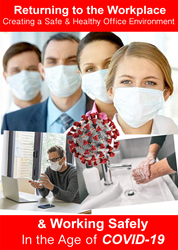 ENCINO, Calif. (PRWEB) June 29, 2020
Millions of businesses around the country have been given the green light to open following the pandemic closures. Many of them, however, are not sure where to begin and what measures to take in order to help keep their employees and customers safe and healthy. Business Training Media is offering an online COVID-19 Training and Resource Center, which can play an important role in helping businesses to safely open and get back to offering their services.
"As the country opens, we all want to ensure that safety measures are taken to help keep people safer, but to also gain their confidence," explains Myron Curry, founder of Business Training Media. "Customers need to know that you have a good understanding about the safety measures so they feel comfortable visiting your establishment. We provide you with all the COVID-19 tools you need to do just that."
The online COVID-19 Training and Resource Center offers all of the information a company needs to help prepare for a safe opening. The collection of resources includes online courses, training programs, videos, on-demand webinars, white papers, fact sheets, posters, and more. Many companies are having their employees take the online courses, so they are well prepared for working with customers at this time.
Some of the tools and resources offered in the comprehensive COVID-19 Training and Resource Center include:

A Rational Guide for Returning to the Post COVID-19 Workplace video
Creating a Safe and Healthy Office Environment and Working Safely in the age of the COVID-19 Pandemic video
Reopening the Workplace Virtual Conference: Navigating the Reality of COVID-19
New Office, New Obstacles video
COVID-19: Business Continuity Action Plan Development & Emergency Response Protocols – on demand webinar
CDC Guidance on Preparing Workplaces for COVID-19
Coronavirus: Guarding Against COVID-19: Online Interactive Training
Coronavirus Disease (COVID-19) Online Course
Personal Protective Equipment poster
Coronavirus & Other Contagions: HR & Safety's Role Preventing Spread of Infection During Pandemics – on-demand webinar
Important Information About Your Cloth Face Mask Coverings
And much more!
"Our COVID-19 Training and Resource Center is filled with helpful information, tools, and educational materials," added Curry. "It's imperative that every employee understand the importance of maintaining virus safety protocols, and we help make it easier for them to do it."
To access the COVID-19 Training and Resource Center, visit the site: https://www.businesstrainingmedia.com/covid-19-employer-training-center.php
Business Training Media offers over 6,500 training products, including online courses in management, cybersecurity, customer service, sexual harassment, COVID-19 resources, and more. The company has provided training for such companies as Bank of America, FedEx, Verizon, Google, Yahoo, and more. To learn more or register for the course, visit the site: https://www.businesstrainingmedia.com
About Business Training Media
Founded in 1998, Business Training Media offers thousands of training products for corporations. Based in Encino, Calif., it provides business training solutions for companies worldwide. It has had over 26,000 customers, including many Fortune 500 companies. Its training tools are available in multiple delivery options, including online, video streaming, DVD, USB, webinars, books, games, and more. To learn more, visit the site: https://www.businesstrainingmedia.com