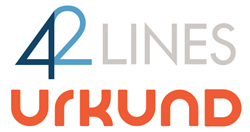 Urkund is an intuitive platform that improves institutional effectiveness and academic integrity, and integrating it into Harmonize will further our mission to deliver instructors and students the tools they need to thrive as they converse and collaborate online
CHICAGO (PRWEB) May 14, 2020
42 Lines, a leader in custom edtech development and creator of the Harmonize online discussion platform, today announced its partnership with Urkund, a global market leader in plagiarism prevention.
"As reliance on online learning scales, institutions are more concerned than ever with protecting the integrity and quality of their students' learning experience," said Eric Gibbs, President, North America of Urkund. "We look forward to our partnership with 42 Lines in transforming the student experience to enable greater online and original collaboration within Harmonize."
Urkund consistently ranks best in global tests of text-similarity detection services by leading researchers. Its unique approach to plagiarism detection uses machine learning to reduce false positives, while new technology enables matching between a growing list of languages.
"With online discussion becoming an increasingly central part of education, instructors urgently need tools that inspire student engagement," said Marcus Popetz, co-founder and CEO of 42 Lines. "Urkund is an intuitive platform that improves institutional effectiveness and academic integrity, and integrating it into Harmonize will further our mission to deliver instructors and students the tools they need to thrive as they converse and collaborate online."
Through the integration with Urkund, instructors can check the integrity of their students' discussion posts in a variety of languages, along with other assignments shared, within the Harmonize online discussion platform. Harmonize works seamlessly with any learning management system, including Canvas by Instructure, Brightspace by D2L, Blackboard, and Moodle.
With a visually appealing, easy user interface that mimics social media platforms, Harmonize enables students to quickly survey content at a glance and dive into posts that interest them the most. The ability to share and annotate images and videos within the platform empowers students and instructors to engage in academic conversations bolstered by rich media for deeper learning. Harmonize is easy to use regardless of location or device. Users can transfer drafts fluidly from mobile to desktop and back again.
Instructors have access to qualitative and quantitative data on student participation and course progress in Harmonize, saving time on grading and enabling them to reach all students.
Visit Harmonize.42lines.net to learn more.
About 42 Lines
42 Lines has more than a decade of experience developing innovative education technology solutions for higher education institutions and organizations looking to surpass industry standards. Created in response to educator and student feedback, the Harmonize platform seamlessly integrates with learning management systems to create an engaging, collaborative community for dynamic academic discussion, creative and analytical thinking, and in-depth feedback that drives improved learning outcomes. To learn more about 42 Lines, visit 42lines.net. To learn more about Harmonize, visit harmonize.42lines.net.
About Urkund
Urkund supports academic institutions, secondary schools, and corporations in their institutional effectiveness and quality initiatives by delivering a fully automated system for checking text originality and preventing plagiarism. The software is fully integrated into all major learning management systems and uses advanced machine learning to deliver test-winning accuracy. With 20 years at the forefront of promoting academic integrity, Urkund now serves over 5,000 institutions in nearly 80 countries worldwide. Urkund is privately owned and headquartered in Stockholm, Sweden. Learn more about Urkund at Urkund.com.
Press Contact
Heather A. Hodgson
42 Lines
heather@42lines.net
Carl-Fredrik Wållgren
Urkund
carl-fredrik.wallgren@urkund.com