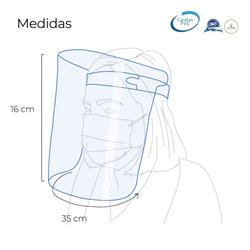 Online Sales Are The Future
NEW YORK (PRWEB) May 05, 2020
Face Mask company caretaspvc.com announces the launch of its new Americas e-commerce in an effort to contribute to the early end of the world's ongoing health crisis.
It is a well-known fact that, as business models continue evolving, companies aiming to survive & thrive have to evolve with them.
Caretas PVC is a great example of timely gear-shifting, because it already was one of the largest, most renown PET & PVC producers in the world, when its board decided to transform their regular plastic mask production line into a mammoth health assistance game-changer, that earned them a record-breaking 2.5 million in sales in just 3 hours. The company has since then become the largest mask manufacturer across the continent with their production surpassing the 750 thousand unit mark every single day. It has also become a distributor favorite because of the availability of their products, customer service, & executive assistance—designed to give each client personal attention & individual purchase models.
Caretas PVC has also been recognized as the ultimate go-to producer for domestic mega distributors upon the spread of COVID-19, because they are willing & able to accommodate every order—even if it includes previously un-comboed contents.
Caretas PVC is a spear-header due to the fact that they created a business model mainly designed to help people who were laid off—or suspended without pay—earn extra income by becoming local distributors in their communities.
This business brilliance has been critically acclaimed by news outlets, as well as fellow companies worldwide, because it encompasses—& caters to—two of the most urgent needs of the COVID-19 pandemic. Consequently, their vision has been emulated by similars in all ends of the globe; however, its CEO, Luis Fenton, stated:
"In times of crisis it's our job to help restore lives, as well as to share our ideas so that as many people as possible can benefit from our unique work."
Caretas PVC has become a force to be reckoned with in the PET & plastic market, because of their asserted mix of quality, strategy, vision & humanitarian efforts—that together, they believe, are going to make a difference during this difficult time & in the future.
Caretas PVC opened for business over 15 plus years ago & has been breaking bounds, rewriting norms, setting bars & paving the way for companies in their branch, & beyond, since then.
Committed to its values, but never afraid to sail into new horizons, unlimited, unbreakable, affordable, flexible, & eco-friendly, Caretas PVC has transcended the test of time, because it has always found a way to suffice in changing & trying times.
Caretas PVC has also made a habit out of donating over 15% of their profits to help people through the charities they support. Now, with the launch of their brand-new e-commerce, the company known for its affordable prices, their split payment arrangements, their high-end products, their multiple health precautions, & their curated knowledge on the art of blending profitability & charity, is set to help the world regain mass well-being.