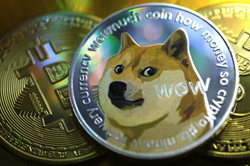 Accepting cryptocurrency, including Dogecoin, seemed like a natural next step for us.
NEW YORK (PRWEB) May 11, 2021
SamandZoey.com, a company that designs and manufactures traditional and modern designs to incorporate into textile designs for the home and lifestyle, today announced that they are accepting Dogecoin as payment. They will now also offer Dogecoin products.
Dogecoin is an open-source, peer-to-peer meme digital currency. Dogecoin has grown faster than any other digital currency because, unlike Bitcoin, with its 21 million coins, there is no limit to the number of Dogecoins that can be created. The currency has appreciated by over 13,000 percent since January 1 of this year.
Sam and Zoey is an online gift shop. Their parent company, DRN's Corporation and Carousel Ads, has been screen printing and creating textiles for 37 years. The business served education and business sectors before transforming into a traditional digital printing business—streamlining operations from bulk wholesale orders to customized individual orders.
"We pride ourselves on responsibly sourced materials, and being Made in the USA—right here in Brooklyn" said Ben Schwartz, eCommerce Director of Sam and Zoey. "Accepting cryptocurrency, including Dogecoin, seemed like a natural next step for us—we have a history of listening to what our customers want. I'm surprised other eCommerce stores aren't doing the same."
In addition to accepting Dogecoin as payment, Sam and Zoey's new Dogecoin collection features the famous Shibu Inu Dogecoin dog and Elon Musk on the products. These include beach towels, canvas tote bags and hooded blankets. Sam and Zoey also offers many other customizable products such as hooded blankets, glassware, swaddle sets and pillows.
SamandZoey.com offers cake toppers, placemats, mugs, table runners, kitchen towels, tea towels, aprons, coasters, tumblers, and glasses for the home. Sam and Zoey also offer face masks, tote bags, coin purses, makeup, and pencil bags, as well as baby blankets, receiving blankets, and swaddling sets.
For more information, visit samandzoey.com.