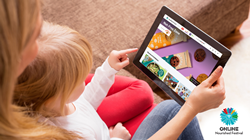 "The Online Nourished Festival will be the event of the year to purchase discounted gluten-free products, chat with exhibiting brands, learn about available community support, and take classes on specialty-diet cooking and baking." Jen Cafferty, CEO, The Nourished Group
DOWNERS GROVE, Ill. (PRWEB) August 28, 2020
With in-person gluten-free events being canceled due to COVID-19, The Nourished Group set out to continue helping the specialty-diet community connect with great, gluten-free brands. At the Online Nourished Festival, attendees can discover new gluten-free products, get coupons, enter giveaways, chat with brands & watch over 50 educational classes... all online from the comfort of home! Over 150 exhibitors have already registered with more to be added in the coming weeks.
The event will take place live over a three-day period on September 24-26, and the classes will be viewable on demand for several months afterward. It is free for the public to attend, and interested participants can sign up here.
"The Online Nourished Festival will be the event of the year to purchase discounted products, chat with exhibiting brands, learn about available community support, and take classes on specialty-diet cooking and baking. We will also be providing classes on a variety of medical topics as well as general gluten-free lifestyle tips. Don't miss out on this celebration of gluten-freedom," said Jen Cafferty, Nourished Group CEO.
Presented by Enjoy Life Foods, Swerve Sweetener and The Gluten Intolerance Group, the Online Festival features over 20 different categories of gluten-free products. Categories include: Sweets & Treats; Bread, Buns & Rolls; Cakes & Pies; Snacks; Vegan and Plant-Based items and much more. All products listed are gluten free.
For attendees, the Online Nourished Festival provides an easy-to-navigate website to browse new products, chat with companies in virtual booth space, join presentations, and make discounted purchases. Many exhibiting brands will be offering sample packs, special show pricing, and free product giveaways. All registered attendees will also receive a digital coupon book to make purchases after the event.
Brands interested in exhibiting can still register for a virtual booth by clicking here. Interested attendees can sign up for festival updates by clicking here.
For more information, reach out to Jen Cafferty, CEO, The Nourished Group.
jen@nourished.group.