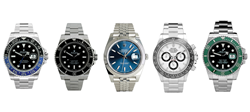 Tim Stracke, CEO of Chrono24, explains: "I estimate that the pandemic has brought global e-commerce trade forward by three years. The value of e-commerce to propel the luxury watch industry forward simply can't be ignored anymore."
KARLSRUHE, Germany (PRWEB) December 17, 2020
The world's largest marketplace for luxury watches, Chrono24 (https://www.chrono24.com/), proves stunningly soaring consumer demand for luxury watches and stellar company growth amid a global battle with an unending pandemic. This year Chrono24 will have generated a staggering 25% increase in volume over 2019, and a transaction volume of more than $2.4 billion USD – making 2020 the company's best year ever. Despite the hardships resulting from the Covid-19 pandemic, Chrono24 proves new and pre-owned luxury watches are in greater demand than ever – and when customers are offered digital ease of accessibility and protection tools, this demand is crisis-proof.
Rolex again dominated 2020 with its collectible models taking up all of the top five spots for "most searched" across Chrono24's platform, starting with the Rolex GMT Master II, and followed by (in order), the Submariner, Datejust, Daytona and Submariner "Hulk." Amid the ongoing pandemic consumer appetite for luxury timepieces proved consistently unyielding with exploding growth.
When the Covid-19 pandemic forced more and more countries into lockdown in March 2020, the experts at Chrono24 observed a sharp and immediate 20% decline in sales. This proved to be a short-lived reaction to the initial, unsettling shock of a world in quarantine, where focus shifted away from luxury goods to everyday items.
Perhaps most notably, within 3 weeks Chrono24 saw the pendulum swing back: its online sales returned with an astoundingly quick rebound-rate. While other luxury industry retailers were reporting a drop in sales between 80-100%, Chrono24 witnessed a reigniting of passion from watch lovers in the US, as well as Hong Kong, Germany, Italy, Spain and more. Sales figures grew by leaps and bounds throughout April and May, and have since remained stable at 13% above their pre-pandemic level.
The impact of Chrono24's impressive sales figures ranges far beyond self-congratulation. It is indicative of a larger shift toward digital in the way watch-lovers shop, and luxury watch brands ought to take note. Traditionally the watch industry - particularly some of the most well-known Swiss heritage brands - have been notably reticent to embrace e-commerce as a viable sales channel.
Numbers don't lie. Chrono24 has + 9 million unique visitors per month. At any given time, approximately half a million luxury watches are available from retailers, dealers and private sellers on its online marketplace spanning more than 100 countries worldwide.
Tim Stracke, CEO of Chrono24, explains: "Whether purchased as an investment or out of pure passion, luxury watches are becoming increasingly sought after. The passion of buyers is unbroken and is shifting more and more towards online retailing. I estimate that the pandemic has brought global e-commerce trade forward by three years. The value of e-commerce to propel the luxury watch industry forward simply can't be ignored anymore."
There are many factors outside of pure collector passion that attributed to Chrono24's exceptional growth during a pandemic. The digitalization of entire countries around the world had never been as fast as it was at the onset of the virus. And in economically unstable times, people prefer to hold real assets with promising value retention, like luxury watches. Simultaneously, more consumers have embraced luxury re-sale platforms in 2020 than ever before, across all major consumer categories.
Chrono24 also puts a steadfast priority on making sure its community is set up for success to buy and sell luxury watches safely and with total security and trust, online. It offers best-in-class buyer protection, identification capabilities with its Watch Scanner tool (a fun and easy to use way to identify watches with a smartphone camera), pre-vetted dealers and sellers, and a free escrow service that is designed to fully protect its buyers and ensure transactions happen smoothly.
Chrono24 has been the global online marketplace for luxury watches since 2003. They are the #1 address for luxury watches for commercial watch dealers, private sellers and watch enthusiasts from around the world. With approximately 500,000 watches from more than 3,000 retailers and more than 30,000 private sellers, the portal boasts an average 500K unique visitors per day with approximately 9M unique visits per month (plus a cool 111K+ Instagram user following). Monthly purchase requests fall in the six-digit range, building to a transaction volume of approximately $2.4 billion USD in 2020.