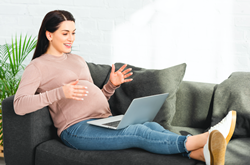 Women around the world have really started to take advantage of our online consultations. It's a great way for mom-to-be's to understand the clothing, the fit, and really connect with someone who knows exactly what they need".
THORNHILL, Ontario (PRWEB) October 28, 2020
Financial pressures and government restrictions surrounding COVID-19 have forced several retail businesses to close their doors permanently. Due to this, pregnant women who relied their shopping experience on touching, looking, and feeling clothing are facing challenges they have never faced before. They can no longer feel the warmth of the sweater, the elasticity of the yoga pants, the softness of the pj's, nor many other characteristics that are essential when looking for maternity clothes.
With the current global situation, many shoppers are not completely comfortable going out to shop, and this uncertainty can be understandably greater amongst pregnant customers. So, this is why eFashion Consultation services online are the perfect solution!
With the launch of eFashion consultations, Seven Women has taken this challenge head-on and has completely transformed the way mom-to-be's can shop online. They have not only made sure to provide the same quality service you would expect in store, but have been able to successfully bring the very needed sensory experience that online shopping lacked. Seven Women can help you make sure to acquire the best maternity clothing that is both comfortable and fashionable.
But why should you request the service of a maternity fashion expert? Some people who aren't fashion enthusiasts prefer wearing simple clothing that makes them feel happy and comfortable, which is understandable, but you'd be surprised at how the right type of clothing paired with the right accessories can help you enhance the way you look and feel - we can guarantee it! Of course, this type of task gets especially more complicated when you are pregnant, which is the priority target at Seven Women.
Our maternity fashion experts at Seven Women can advise you on the pieces of clothing and accessories that are right for you based on the occasion, pregnancy duration, and style you're currently looking to achieve. For instance, if you wish to get attire for professional settings or just want to wear comfortable clothes that don't sacrifice style, Seven Women experts can guide you towards the adequate items that will help you match any look or achieve your main priority while still looking good!
The process
Committed to cater their professional services to every client's maternity situation and need, Seven Women's online maternity fashion consultation starts with the clients providing important physical details, such as elapsed months of pregnancy, height, weight, as well as back, hip, and chest measurements. After all essential details have been acquired, clients will then schedule a suitable time and platform to get in touch with a Seven Women's maternity fashion expert. On the day of the consultation, experts will get to know the client as well as the client's preferences, favorite brands, budget and help guide in selecting the appropriate size.
Afterwards, Seven Women's maternity fashion experts will recommend various options from the current in stock clothing and accessories that would be best suited to the client's measurements and goals. At this point, the client will be able to decide if they want to buy said items and, upon confirmation, set up the way to receive them.
The eFashion cConsultations can take place through different tele-conferencing platforms such as Skype, Zoom, Google Meets, or any other one that the client is familiar with. Consultations can take from 15 minutes to an hour, but every single one is fully focused on reviewing the type of maternity clothing that you currently possess, together with the shared details and goals, to help you match the comfort, image and style you have been looking for!
About Seven Women:
Seven Women is a maternity clothing store that has been serving the women of the GTA area for almost 20 years, with their first location opening starting on Thornhill in 2002. Their main priority is to offer a wide selection of quality, versatile and stylish pieces of maternity clothing and accessories at reasonable prices.They believe that no woman should have to sacrifice her style, comfort or budget by wearing things she never would normally during her pregnancy. Seven Women is always on the cutting edge of designer fashions to ensure their clients are never caught in outdated or drab outfits and possess fully qualified style advisors that can provide the experience of a personal shopper with all the practical knowledge required to provide their clients with the security and peace of mind that their new wardrobe will not only last them until their 9th month, but for many years afterwards.
Don´t wait any longer and reach out to them by sending a message at info@sevenwomen.ca or by giving a call at Toll-Free: +1-855-972-9679 or Local : +1-416-949-6687 to book your eFashion consultation appointment.
This article was written by Rosember Gómez, Senior Copywriter at http://www.mrkt360.com.