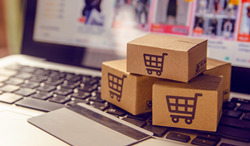 Accessing [Latin American] markets, however, and serving them efficiently and cost-effectively, presents certain logistical challenges.
MIAMI (PRWEB) August 03, 2020
Spurred by reduced in-store shopping due to the coronavirus pandemic, ecommerce sales in Latin America, already one of the world's fastest-growing online markets, are expected to increase 19.4% in 2020, to $83.63 billion.(1) " The pandemic has forced people who were wary of shopping online to try it," says A.J. Hernandez, President and CEO of SkyPostal, Inc., "and now sales, including cross-border, are booming."
Hernandez notes that mobile phones, televisions, car accessories, electronics, music and movies, fashion, books and subscriptions, and furniture are among the best-selling items in Latin American ecommerce markets.(2) "Accessing those markets, however," he says, "and serving them efficiently and cost-effectively, presents certain logistical challenges."
To help surmount those challenges, says Hernandez, SkyPostal has developed a proprietary network in Latin America that uses the best local providers in the region and is able to offer delivery at a fraction of the cost of other familiar express carriers. Among its capabilities is parcel consolidation, in which a large number of items destined for a certain market—Mexico City, for example—are shipped as a unit to that market cleared through customs and delivered by SkyPostal's private delivery network to the shopper.
One difficulty facing merchants shipping to Latin America is finding an affordable replacement for services until recently performed by the United States Postal Service. On July 1, a new USPS pricing structure went into effect, raising rates on international shipments connecting a number of origin and destination postal services.(3) The USPS also stopped delivery service across more than 100 international markets during the COVID-19 crisis, leaving thousands of businesses stranded as they rushed to find alternative ways of getting their shipments delivered.(4)
In addition to the rate increase the USPS has reduced the number of countries to which it offers its ePacket service, a trackable service, popular with cross-border sellers from nearly 40 countries down to 12, including Brazil, the largest eCommerce market in Latin America.(5)
Given these circumstances, notes Hernandez, industry experts recommend that shippers move parcel volumes to commercial networks such as carriers and freight forwarders to obtain discounted rates. Latin America, he adds, with a total population of more than 626 million(6) and an online sales growth rate of nearly 20%, represents a major opportunity for global ecommerce merchants. Of commercial networks serving Latin America, he says, SkyPostal has established itself as the clear-cut industry leader, both in terms of reliability and cost-effectiveness.
"With our technology base and our long experience in the market," says Hernandez, "we have bridged the gap between the best delivery services out there and the needs of our most demanding clients. From returns to local customer service to real-time tracking to nearly every destination, SkyPostal has worked hard to ensure that our clients get the same level of service they are accustomed to receiving in the U.S. or Europe—without paying outrageous rates."
About SkyPostal:
SkyPostal was created in 2001 to meet the need for improved and efficient cross-border mail and parcel service from the United States and Europe to all countries in Latin America, the Caribbean, and Mexico. It is now the largest private mail and delivery network in Latin America, serving European postal administrations, major publishers, the world's largest ecommerce retailers, international shippers, and financial institutions that require reliable and secure delivery of their mail and parcels. For more information, please see http://www.skypostal.com.
1. Katie Evans | Jul 13, 2020, et al. "As Pandemic Pushes on, Online Sales Grow 76% in June." Digital Commerce 360, 16 July 2020, digitalcommerce360.com/article/coronavirus-impact-online-retail/.
2. "Latin America Ecommerce 2020." EMarketer, emarketer.com/content/latin-america-ecommerce-2020.
3. Solomon, Mark. "USPS, Facing Fiscal Calamity, Confronts New Challenges to International Parcel Competitiveness." FreightWaves, 19 June 2020, freightwaves.com/news/usps-facing-fiscal-calamity-confronts-new-challenges-to-international-parcel-competitiveness.
4. Rajamanickam, Vishnu, et al. "International Shipping Holds Promise for Retailers Post-COVID-19." FreightWaves, 22 May 2020, freightwaves.com/news/international-shipping-holds-promise-for-retailers-post-covid-19.
5. O'Brien, Mike. "Cross-Border Shipping Costs Going Up July 1, More Hikes in January." Multichannel Merchant, Multichannel Merchant, 15 June 2020, multichannelmerchant.com/operations/cross-border-shipping-costs-going-july-1-hikes-coming-january/.
6. "Latin America and the Caribbean Population (LIVE)." Worldometer, worldometers.info/world-population/latin-america-and-the-caribbean-population/