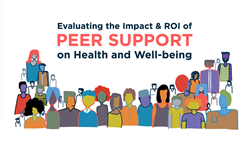 Peer support has been identified as an effective intervention to... instill greater emotional well-being, and improve health outcomes for a wide range of mental and physical health issues.
BERKELEY, Calif. (PRWEB) August 24, 2020
During the COVID-19 pandemic, employers and health insurers are grappling with mental well-being issues that have long affected their employees and members, but have now risen to a boiling point: loneliness, social isolation, anxiety, depression, and day-to-day stress are all peaking. To cost-effectively solve these long-standing mental health and wellness challenges, look to evidence-based, scalable, affordable solutions like peer support.
Supportiv, the peer support network, has released a whitepaper synthesizing 120 existing research studies on the unique role peer support can play in improving individual mental health and physical health outcomes. Positive clinical outcomes from the novel mental health solution are discussed in the paper, written by Dr. Rosemary Ku, a physician with dual board certifications in Internal Medicine and Preventative Medicine.
Dr. Ku completed her undergraduate education in Neuroscience and Molecular/Cell Biology at Princeton, and her MD at Columbia University. In addition, she's an expert on the intersection of public health and novel technology solutions, having earned an MBA from Columbia, and a Master's in Public Health from UC Berkeley. As she summarizes in the paper:
"The healthcare system is designed to intervene when conditions become severe and is not equipped to address the challenges of daily life struggles. Peer support has been identified as an effective intervention to fill this gap, instill greater emotional well-being, and improve health outcomes for a wide range of mental and physical health issues. By increasing social connectedness and providing both emotional and tactical support for day-to-day stressors, peer support is a low-cost, effective service that can serve as a standalone offering or complementary to disease management programs."
What is not widely known are the studied outcomes of peer support vis-a-vis traditional forms of mental health care. The whitepaper cites a meta-analysis of randomized control trials (RCTs) that compared peer support to traditional care for depression, in which peer support was significantly more effective for reducing depression scores. Further, peer support was as effective as group cognitive behavioral therapy (CBT). The magnitude of improvement seen from peer support was similar to those of psychotherapy and antidepressant medications.
The whitepaper addresses accessibility advantages of online peer support networks, in a time when low-cost, accessible, flexible, and scalable care is critical to employers, health plans, individual end users, and U.S. public health system.
Online peer support has the potential to integrate with other value-adding features, unlike its in-person counterpart. For example, Supportiv's 24/7 digital peer-to-peer support chat platform surfaces resources, self-help tips, referrals and recommendations, all in real-time inside. By typing a few words in response to the question: "What's your struggle?" users are matched in under a minute to topic-specific peer-to-peer small group chats that are professionally moderated for safe, anonymous support. Users receive instant compassion from others who relate to their struggles, as well as practical self-help tools on topics from communication conflict, parenting challenges, or burnout to loneliness, anxiety, and depression.
When evaluating an online peer support program, be sure your selection operates on evidence-based principles, notes Dr. Ku. Some further relevant considerations include:

On-demand access
"Rigorously selected, trained, and supervised" moderators
Scalability
Data security to ensure privacy and legal compliance
Online peer support can help people process, cope, or heal from emotional struggles in ways that traditional mental healthcare options simply cannot achieve. Uses come away feeling more hopeful and empowered to take action.
Supportiv has already enabled over 550,000 users to feel less lonely, anxious, stressed, misunderstood, and hopeless through its moderator-guided chats with AI-driven content and resource recommendations. The peer support network is available 24 hours a day at http://www.supportiv.com.