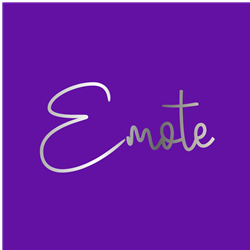 WASHINGTON (PRWEB) January 04, 2021
COVID-19 has changed life for most Americans in the past 11 months and people nationwide are grieving losing friends and loved ones, jobs, friendships, and the normalcy of human interaction and routine. Fear of the virus has kept people from seeking medical care, including therapy for mental health, while the feeling of isolation continues to increase. Emote, the online platform that lets anyone receive help remotely for psychological issues from top licensed professionals from their mobile device, tablet or computer, is making access to quality mental health care easier and more affordable. For a limited time, anyone can receive 50% off their first online therapy session to help kick start their emotional well-being in 2021.
Emote offers mental health services that are safe, secure, private and confidential. Easily select an experienced mental health professional from Emote's network and schedule a counseling session online. There's no need to worry about virus exposure in a therapist's office, putting on a mask, or needing to use hand sanitizer. High quality therapy is provided based on the user's own schedule and terms. Emote provides the users with several communication options for therapy sessions. Depending on the user's preference and availability, choose from talking or chatting via text on the phone with the counselor, or video conference for those who prefer face-to-face interactions.
In addition to providing different communication methods, Emote also offers multiple types of mental health experts. Accredited psychologists, clinical social workers and licensed professional counselors are all available to address an array of psychological needs for individuals and couples. By making access to the right mental health professional for each user more convenient and affordable, Emote seeks to ensure those who need help actually receive and benefit from it during these unprecedented times.
There are no time limits on how long Emote users can work with the mental health professional they select. Whether it's anxiety, depression, grief, PTSD, addiction, trauma or relationship issues, users can select short-term therapy or a longer-term interaction. Emote offers safe, affordable and personalized online therapy from top-quality licensed professionals to meet the unique needs of each individual.
Visit http://www.emote.life to sign up and receive 50% off the first online therapy session and start the journey to mental wellness today.
Media Contact
Ria Romano
RPR Public Relations, Inc.
Tel. 786-290-6413